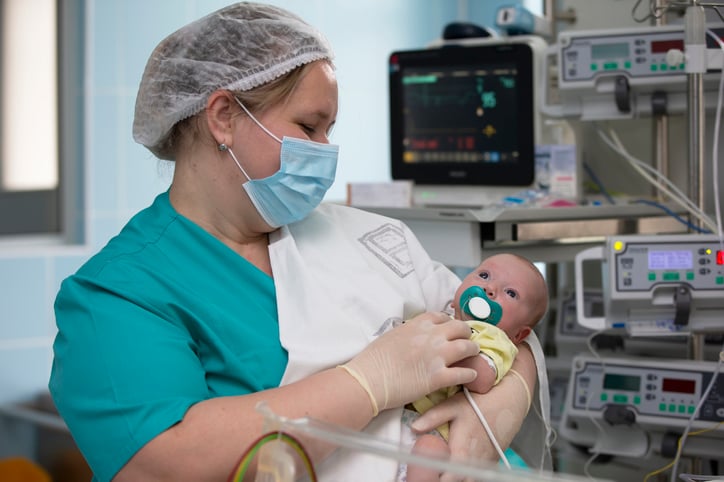 If you're interested in joining the Nursing field, or changing your Nursing Specialty, you'll want to learn more about which Specialty is the right fit for you.
Looking to make a difference in the lives of infants and their families? Neonatal Nursing may be the perfect career choice.
Every year, 10 to 15 percent of babies born in the United States (roughly half a million) are admitted to the Neonatal Intensive Care Unit (NICU).
According to the American Academy of Pediatrics (AAP), there are 4 Neonatal care levels
Level I: Well Newborn Nursery
Level I facilities provide a basic level of care to neonates who are low risk. They have the capability to perform neonatal resuscitation at every delivery and to evaluate and provide routine postnatal care for healthy newborn infants. In addition, they can care for preterm infants at 35 to 37 weeks' gestation who are physiologically stable and can stabilize newborn infants who are less than 35 weeks of gestation or who are ill until they can be transferred to a facility at which specialty neonatal care is provided.

Level II: Special Care Nursery
Care in a specialty-level facility (level II) should be reserved for stable or moderately ill newborn infants who are born at ≥32 weeks' gestation or who weigh ≥1500 g at birth with problems that are expected to resolve rapidly and who would not be anticipated to need subspecialty-level services on an urgent basis.
These nurseries may provide assisted ventilation on an interim basis until the infant's condition either soon improves or the infant can be transferred to a higher-level facility.

Level III: Neonatal Intensive Care Unit (NICU)
Evidence suggests that infants who are born at <32 weeks' gestation, weigh <1500 g at birth, or have medical or surgical conditions, regardless of gestational age, should be cared for at a level III facility.
Level III NICUs are defined by having continuously available personnel (Neonatologists, Neonatal Nurses, Respiratory Therapists) and equipment to provide life support for as long as necessary.
These units should have the capability to perform major surgery on site or at a closely related institution, ideally in close geographic proximity.

Level IV: Regional Neonatal Intensive Care Unit (Regional NICU)
Level IV units include the capabilities of level III with additional capabilities and considerable experience in the care of the most complex and critically ill newborn infants and should have pediatric medical and pediatric surgical specialty consultants continuously available 24 hours a day. These facilities would also include the capability for surgical repair of complex conditions.
Nurses working in the NICU have a wide variety of responsibilities. Some of these duties include:
performing tests to evaluate any problems

monitoring infant health such as vital signs

documenting patient history

creating care plans with other healthcare providers

administering treatments and medications

educating new parents on how to care for their baby

providing comfort to concerned parents and family members


If you're interested in becoming a Neonatal Nurse you must start by earning a Bachelor of Science in Nursing (BSN) and obtaining your RN license. Then you need to gain clinical experience in Pediatric and Neonatal settings.
Many Nurses may go on to get specific certifications and trainings to help advance their careers. Some of the certifications available to NICU Nurses include:

According to Salary.com, the average salary for a NICU Nurse is $82,269 per Year in the United States. The five highest paying states are: Alaska, California, District of Columbia, New Jersey, and Massachusetts.
It takes a person with a very big heart to care for such small patients. If caring for newborns and their families is important to you, this rewarding career could be the perfect fit.