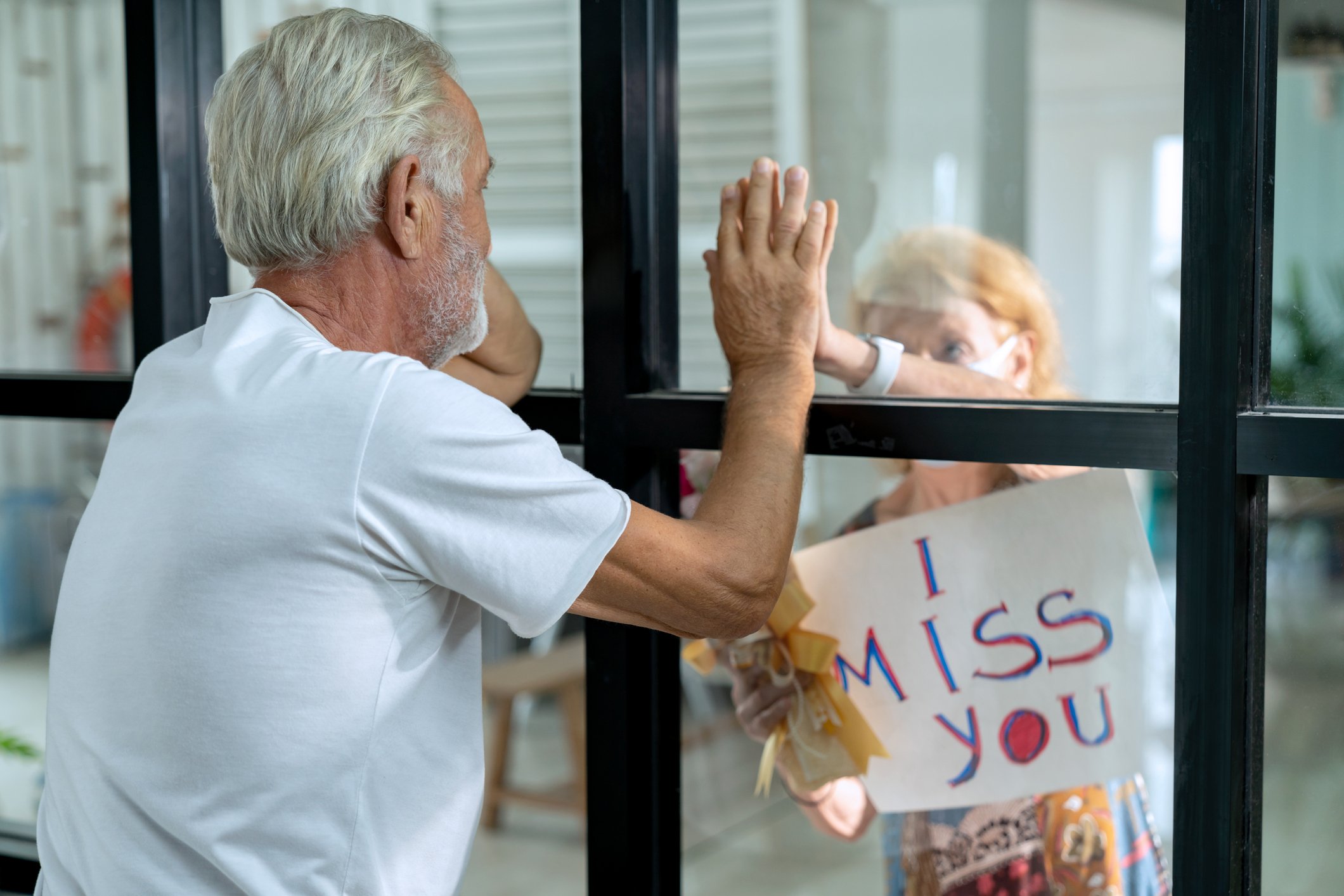 Many health systems are focusing attention on the impact visitations and family communication has on reducing the suffering of patients and loved ones. It is traumatic for patients and families to be separated, to suffer or die alone.
Hospitals are modifying guidelines and finding alternatives to help achieve that human connection in a safe way.
Not only do these restricted visitation policies effect the patients and their families, it also has an effect on health care workers.
According to STAT news, Nurses experienced intense moral distress over having to enforce these policies, which conflicted with their sense of just and humane care.
Darlene Randolph, a registered dietician, lost her husband, Dr. Dave Rudolph, to Covid-19 and wished she could have been there for him. Working in hospitals, she knew the protocols and restrictions that had to be enforce but hoped she could do something about it.
On Christmas Eve, Darlene wrote to Dr. Anthony Slonim, President and Chief Executive Officer of Renown Health in Reno, NV. She expressed her gratitude and thanked the staff working under dangerous circumstances and risking their lives to care for others.
Darlene wanted to share her experiences in hopes they would be helpful when establishing policies that impact families. She explained that despite receiving assurances that Dave's Nurse or even a Doctor would call daily, sometimes they would forget.
In her letter she wrote, "how important it was, in these times when family cannot visit, and has only infrequent communication and is anxiously waiting at home for word of their loved one, how much it means to get a call from someone caring for him at the hospital." Darlene asked, "If there is any way you can help to assure that Nurses have time to make calls or assist patients to make calls, because it is an important part of patient care.
Nurses are under extreme pressure with an over whelming case load, they barely have time to take a much needed break. If a patient's family member or advocate can be by their side, it frees up time a Nurse would spend scrambling to set up a FaceTime or video call, most likely on their personal phone.
The Renown Health hospital leadership team made a recommendation to Dr. Slonim that was immediately approved. They understand that the best communications are in-person and modified the visitation policies so that each patient can have a designated visitor.
"At Renown, the definition of "family" is defined by the patient," says Debra Adornetto-Garcia, DNP, RN, NEA-BC, AOCN, Chief Nursing Officer, Acute Services. "Our patients may designate anyone they choose as their Patient Supporter. The Patient Supporter is incredibly important and part of the care team. The Patient Supporter will be asked to partner with the patient's health care team to assist in communicating to other family members and friends, participating in training and education activities and assisting the patient with complying with care and medication instructions."
If hospitals can't allow daily visitation, they should offer families daily access to video and phone visits. Since Nurses have their hands full, hospitals like Mercy Hospital, are hiring temporary workers to provide frontline workers support.
These coworkers would be responsible for facilitating communication between patients and families, stocking supplies and linens, and answering phones.
"These temporary co-workers will give our front-line teams much needed support allowing our caregivers to use that valuable time focusing on direct patient care," said Cynthia Bentzen-Mercer, Mercy Executive Vice President.
When financial resources are too thin to hire extra staff, hospitals have looked to medically trained volunteers to provide patients some comfort.
Michigan Medicine's created the No One Dies Alone (NODA) program, where volunteer medical students bring comfort to patients who find themselves alone at the end of their lives.
"It's not just the institutional limitations on visitors. The travel restrictions make it more difficult for those coming from far away," said Social Work Program Manager, Amanda Schoettinger. "Some people aren't working and might not have the money to travel. Some are sick themselves. A lot of people are afraid to come to the hospital, which is understandable."
Some health care workers are volunteering time after their long shifts to be with patients who are suffering alone.
Ben Moor works in a Massachusetts hospital and has started volunteering since he received his vaccinations. In a STAT news article he wrote, "Shielded behind an N95, visor, gown, and gloves, I reckon I'm now about as safe as I can be. So when my day's work as an anesthesiologist is done, I've started sitting with Covid-19 patients. At first I tried chatting with them, but when someone is breathing 30 times a minute through an oxygen mask, it's difficult to be a great conversationalist. Now I talk to them, hold a hand, get them water, arrange their pillows. Sometimes I just sit there because I have this nagging, incompletely explored belief that just a human presence, someone bearing witness to their ordeal, has value. Afterward, I call the family because they are victims of this virus too."
According to research, there are risks of depression, anxiety, and post-traumatic stress disorder, in family members of patients who die in ICUs. Now there is extra stress of having to wait by the phone for terrible updates, not being able to see your loved ones, and not being able to say final goodbyes. Health systems, as busy and well-intentioned as they are, must continue to find ways to provide family-centered care. It benefits them, their patients, and the patient's families.