By Debra Wood, RN, contributor via www.americanmobile.com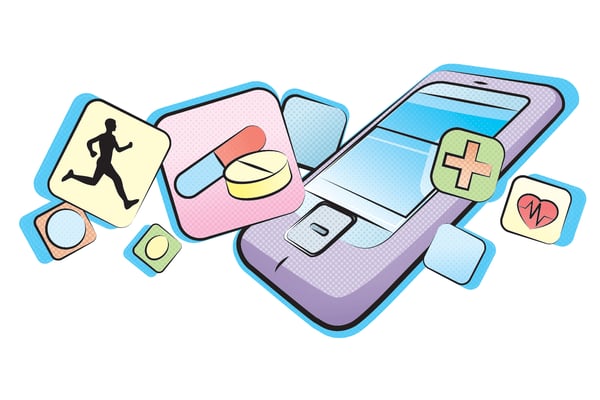 It appears there will be a positive future relationship between Nurses and health apps that will benefit the healthcare team and patients. These health apps will cause a shift from reactive to proactive care while providing benefits for healthy and chronically ill patients.
Living services, technology that learns and evolves to meet the needs of the consumer, is fast approaching as consumer expectations converge with increasingly sophisticated sensor and communication devices. Nurses may soon see a time when smartphones warn of impending depression or a stomach-activated patient monitoring sensor lets them and the physician know how the patient is taking a prescribed medication.
"It is something that is changing the way medicine is being practiced," said David Collins, senior director of HIMSS mHealth Community. Collins said that while much of the technology for connected health care is available today, issues remain in regard to reimbursement, and patient acceptance and engagement. However, with accountable care organizations and other shared-risk programs, reimbursement is based on outcomes, not fee-for-service.
"[This technology] is a tool to allow accountable care organizations to keep cost at a certain level and have an advantage in the marketplace," Collins added. "Things are moving toward population health management. It's more of a team-based approach."
The shift from reactive to proactive care
Those teams may form around patients at high-risk for costly hospital care. Nurses may coordinate care and monitor incoming information from sensors, scales or other technologies. The nurse may assess remotely and help with self-care or changes in the medical plan, based on protocols or the advice of a provider.
"Applications could trigger nurses when a patient shows up in an emergency room, and then information could be delivered to the physician at the point of care," explained Carolyn Richardson, MSN, MBA, RN-BC, regional nursing officer for Zynx Health based in Los Angeles. The company offers ZynxCarebook, a mobile platform to help identify members of a patient's health team and communicate health information and coordinate care across settings.
Rick Ratliff, managing director of digital health at Accenture based in New York, reported that Accenture has predicted that Food and Drug Administration-approved internet-connected solutions created for detection and treatment of a medical indication are poised to save the health care industry more than $100 billion by the close of 2018.
"Longer-term, these IOT (Internet of Things) technologies represent a shift from reactive care--centering exclusively on in-person visits with nurses and doctors--to proactively managing a patient's health with interlinked solutions and services geared to an individual," Ratliff said.
Benefits for healthy and chronically ill
Currently, Apple has created much buzz with the health apps on Apple Watch, and FitBit has grown quickly in popularity. People are wearing both and tracking their fitness activities. But self-care is also going mainstream, with the health insurer Health Care Service Corp. (HCSC) releasing the Centered app for the watch and phone. The app takes a holistic approach to stress management by allowing users to track their daily physical activity while providing guidance for meditation exercises to help reduce stress levels and improve overall health. Nurses could use this health app to manage their own stress or teach patients how to meditate with it.
"Our research indicates that an abbreviated, self-guided, online version of the popular Mindfulness-Based Stress Reduction program can help people recognize stress triggers and gain greater insight in managing their health and well-being," said Conway McDanald, MD, vice president and chief medical officer, Behavioral Health, HCSC.
While these types of health apps may be valuable to active individuals interested in promoting self-care, Dean Sawyer, CEO of Sentrian in Aliso Viejo, Calif., believes the greater benefit will come from tracking the chronically ill. This can be done with biometric devices able to pick up trends of deterioration in the patient's condition before symptoms become noticeable--for instance, with congestive heart failure monitoring thoracic fluid and stroke volume changes. Then the clinician can intervene to prevent costly exacerbations. Sentrian is developing and piloting such a remote patient intelligence platform, using biosensors and a rules-based monitoring program.
"It's helping physicians make better decisions," Sawyer said.
Many local health systems are creating various technologies for collating patient data and monitoring indicators of chronic conditions, Ratliff reported. Internet-connected devices using sensors capture continuous health indicators and can transmit real-time patient monitoring data to health care professions. Medical practices and hospitals must create systems to receive and coordinate the incoming data and allow healthcare professionals to take action.
"Several hospitals are finding early successes in their ability to improve medication adherence, improving behavioral modifications and preventing emergency room visits," Ratliff said. "It's the notion that extending care services beyond the brick and mortar that is today's health care system allows self-care to follow a continuous cycle of prevention, management and improvement."
Related Articles
How to Use Social Media to Further Your Nursing Career
Smartphones to Nurses are Doctors on Call