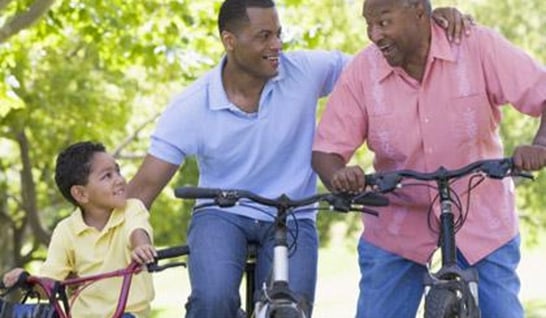 This week is Men's Health Week and this article serves as a reminder about the importance of men paying attention to their health. As a Nurse, you are in the perfect position to remind your male and female patients to take care of themselves, exercise, eat healthy, listen to their bodies and get help if they notice any persistent changes.
Men's Health Week is being recognized across the U.S. during the week leading up to and including Father's Day (June 13-19). And while I have said it before, it bears repeating, this is not just a men's issue — we all need to be aware and support our men's (young to old) good health and prevention of health problems. To that end, I am sharing key information in three parts to help spotlight Men's Health. There are many medical and social factors that impact the physical, social, emotional and spiritual health and wellbeing of all our men and boys.
Studies show that culturally women surpass men in asking for help with their health and too, our boys and men have been raised in a culture "to be emotionally restrained, keeping things close to the vest, being in control, independent, competitive and to endure pain." Research shows that many men only seek medical counsel when under duress from a family member or when their condition has deteriorated to a severe state. This in itself is an issue but add to this, these staggering statistics:
• Men die at much higher rates from the most common forms of cancers that affect both sexes
• Experts agree there is a focus on women's health with multiple commissions – but the same lags for men with substantial amount of health disparities in men/boy's health research
The purpose of Men's Health Week is to heighten the awareness of preventable health problems and encourage early detection and treatment of disease among our men and boys. This Part 2 (of 3) spotlights some additional key concerns while underscoring that having an awareness of preventable health problems along with early detection and treatment of chronic illnesses are imperative to improving men's health. (Part 1 is here.)
Dr. Nina's What You Need to Know: About Men's Health Part 2
Depression While depression in men is common, they often times do not gain the relief needed as they believe they have to be strong and in control of their emotions at all times. And mental health can also affect our physical health; depression can increase the risk for heart disease and other serious medical problems.
Research shows, too, that when feeling hopeless, helpless, or overwhelmed by despair, men and boys tend to deny it or cover it up by physical pain, reckless behavior, anger, or drinking too much. While a key step to recovery is to understand that there's no reason to feel ashamed – that is more convoluted for men as a result of our culture.
And unfortunately, depression in our men can be overlooked—they can find it difficult to "open up" to talk about their feelings. This can result in the underlying depression going untreated, which can have serious consequences—men suffering from depression are four times more likely to commit suicide than women. It is important for any man to seek help with depression before feelings of despair become feelings of suicide.
Depression is not a sign of emotional weakness or failing of masculinity. It is a treatable health condition that affects millions of men of all ages and backgrounds, as well as those who care about them—spouses, partners, friends, and family. If you (or someone you know) is dealing with depression – talk honestly with a friend, loved one, or doctor about what's going on in your mind as well as your body. Once correctly diagnosed, there is plenty you can do to successfully treat and manage depression.
Connecting and Isolation: I am currently reading a book by therapist, psychiatrist Dr. Rob Garfield (2015), titled: "Breaking the Male Code: Unlocking the Power of Friendship" about the "connecting" breakthroughs and valuable benefits from men that had personally felt disconnected – and an insightful introspect of what, as a culture, we reinforce in our men "boy code" – "guy code."
Research shows men may have as many friendships as women have but the quality is often very different. If a guy has a good friend, he may see them once every 3 to 5 years. Social relationships and connection for men are equally vital to men's wellbeing, as to women's. Loneliness can send both men and women down a path toward bad health, and even more intense loneliness, studies have shown. We want to encourage healthy connections and examine our views and related behaviors on "guy codes."
Decrease alcohol use According to The Centers for Disease Control and Prevention, men are more likely than women to drink excessively: 58% report drinking alcohol in the last 30 days and 23% report binge drinking 5 times a month (equates to 8 drinks). In addition to the numerous illnesses that chronic heavy alcohol use increases the risk for—liver disease, heart problems, dementia, cancer—being intoxicated has also been shown to elevate the risk for aggression, accidents, injuries, and deaths.
The Federal Dietary Guidelines on Alcohol Consumption state the following regarding drinking in moderation: For men 65 years of age and younger, no more than two drinks per day and for men who are older than 65 years, no more than one drink a day. They even recommend that some should not drink alcoholic beverages at all including those who cannot restrict their drinking to moderate levels; plan to drive or operate machinery; are taking prescription or over-the-counter medications that can interact with alcohol; have certain medical conditions; and are recovering from alcoholism.
According to a statement from an editor of American Journal of Men's Health, "facts are that men put their health last and it has been researched to find that most men's thinking is, if they can live up to their roles in society, then they're healthy." From infancy to old age, women are simply healthier than men. Out of the 15 leading causes of death, men lead women in all of them except Alzheimer's disease, which many men don't live long enough to develop.
Our men deserve better – their health needs all our attention, on every front — at home; in our communities; and the national level (as we advance more research as well as commission additional understandings to break through the health gap). Let's rally to help make a difference!!