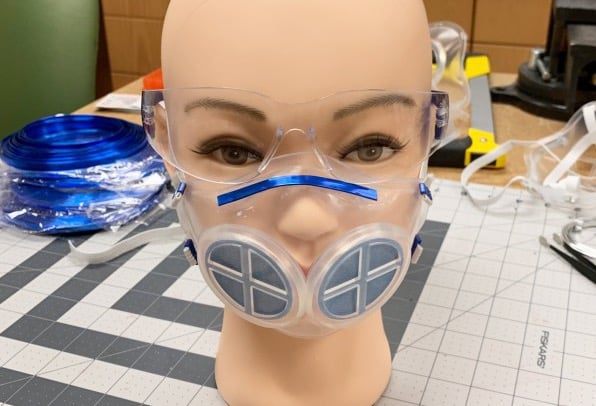 Researchers at MIT and Brigham and Women's Hospital designed a new face mask that is believed to be as effective as N95 masks.
There has been a dire need for N95 masks in hospitals across the nation. Essential workers were wearing the disposable masks more than once, often weeks at a time.
Engineers and researchers hope to provide a solution to this shortage by designing a mask that can be safely reused.
According to CNBC, the new MIT mask is made from silicone, with slots for just two small, disposable disks of the N95 material (which serve as filters). That means the masks themselves can be quickly and easily sterilized and reused.
Adam Wentworth, a Research Engineer at Brigham and Women's Hospital said, "With this design, the filters can be popped in and then thrown away after use, and you're throwing away a lot less material than an N95 mask."
The mask is called iMASC, which stands for Injection Molded Autoclavable, Scalable, Conformable. The iMASC can be sterilized a couple of different ways. You can use a steam sterilize, put it in an oven, or soak them in both bleach and rubbing alcohol.
In a study researchers had 20 healthcare workers wear the mask and perform a series of movements to see how it stayed in place. High ratings were given for fit and breathability.
The study also showed the mask successfully filtered out a sugar solution in the air that was used to mimic aerosolized respiratory droplets.
According to FastCompany, researchers are beginning talks with the FDA about emergency use authorization, both for healthcare workers and the general public. The team is currently running both an environmental impact study and a cost-effectiveness study, and has estimated that its mask could cost just $15 and be used up to 100 times, making the cost per use likely less than a quarter, with the filter inserts less than a dollar.
There is no timeline yet as to when these masks will be available.