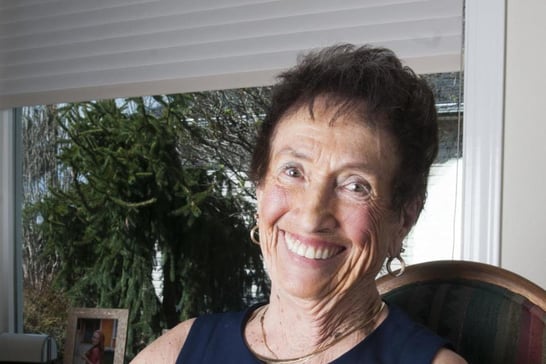 Jokester, Trini Moad Snow, was a Nurse for over 40 years. She's now retired at age 91 but, talks about her happy days at work and the path to her passion. Moad Snow recalls picking vegetables after high school so she could save up enough money for Nurse training and that one time when she cut off an executive's tie! If you're interested in more of Trini's stories continue reading below.
When Trini Moad Snow retired, she decided to play a prank.
It was at a luncheon put on in 1992 by the staff of Mercy Medical Center, now Saint Alphonsus Medical Center in Nampa. Moad Snow, standing next to a hospital executive, pulled a pair of scissors out of her pocket and cut off the tie around his neck.
"I said, 'I never did like your ties,' and I cut it off!'" Moad Snow said, laughing.
"He said, 'You cut off my tie,'" she continued. "I said, 'I know, I don't like your ties.' I thought he was going to faint."
The people watching roared with laughter. Then, Moad Snow pulled out a box containing a nice, new tie and presented it to the executive, who gave her a hug.
"I get a card from him, every once in awhile," she said.
At 91, Moad Snow lives a laid-back life of retirement in Caldwell. She recalls tales from her nursing days that are usually tinged with humor and make her and her audience laugh. Moad Snow has the direct, matter-of-fact attitude you expect from a nurse, and her passion for her more-than-40-year-career is evident.
"I never did go to work unhappy," Moad Snow said. "I loved my work."
Moad Snow holds the distinction of having helped set up the first intensive care unit in Nampa at the Old Mercy Hospital, at a time when intensive care looked different from it looks like today. She saw the evolution of the nursing field from medical advancements to the style of uniforms.
Back in 1946, nurse training school cost Moad Snow a mere $75, a fact she likes to point out incredulously.
In today's dollars $75 is about $995, but that is still cheaper than a nursing student would pay for a semester's tuition at the College of Western Idaho, let alone three years of schooling.
To earn the money to train to be a nurse, Moad Snow, along with her friend Mickey Maybon, picked vegetables in the fields after graduating from Marsing High School. She swears she can still feel the cold lettuce in her hands as she packaged it for shipping.
When they finally earned enough money, they went into training at the old Sisters of Mercy hospital in Nampa.
Nursing was not at the top of Moad Snow's list of careers. She went to nursing school because Maybon convinced her to go. When she was almost finished with training, she had an interview set up in Seattle for an airline stewardess job. But a nun at the hospital turned her plans around.
"She said, 'Trini, you gotta give us a year. You owe us that,'" Moad Snow recalled.
She ended up working in the office of Dr. Warren B. Ross for the next eight years, then went to work at Old Mercy Hospital, an institution where she spent the rest of her career.
Moad Snow was a head nurse in the mid-1960s when she was walking down the hallway with two doctors who asked her if she likes to travel. They told her the hospital was setting up a new kind of unit that was becoming common all over the country, and she could go to New York to learn all about it.
"It wasn't really new; we took care of very ill patients out on the floor," Moad Snow explained. "But what was beginning to happen was they were beginning to group these patients into one area, and they called them 'intensive care units.'"
The new type of care would require nurses to have special training in things like the monitoring of patients' heart rhythms.
Moad Snow was told when she came back to Nampa that Old Mercy's intensive care unit would be fully set up and ready to go; all she would need to do was train the nurses. It didn't quite turn out that way.
"I came back, and I'll never forget ... I went home and cried that day," Moad Snow said.
One of the nuns at the hospital took her downstairs and showed her where she would set up the intensive care unit. She had two small rooms, and to wheel a patient out to the elevator to the surgical department she had to physically move her nurse's station desk.
Thankfully, that set-up was not permanent. Three months later, in September 1968, the Mercy Medical Center opened.
Although Saint Alphonsus is preparing to replace that facility this summer when it opens a new medical center nearby, the hospital was modern for its time, Moad Snow said, especially the ICU.
When the ICU was still in its early years, Moad Snow traveled to Russia to observe intensive medical care. She noticed they had a different policy than she was used to: Family members were allowed to stay nearby with the patient, as opposed to being kept at a distance. It broke all the rules Moad Snow learned, but it made such a difference in the patients' treatment and recovery.
When she got back to Idaho, Moad Snow tore up her rule book and let families visit patients in the ICU.
"It just made everything so much better," she added.
Moad Snow's career saw the application of new medical procedures.
She remembers the first time she watched a pacemaker get inserted. She thought the patient was going to die.
"And then when we got it connected and we saw that blip, and the patient's heart beating on the regular — it's pretty thrilling," Moad Snow said. "And I just couldn't get over how we could do things like that."
With all the changes, what hasn't changed about quality nursing is caring for patients, Moad Snow said.