To receive Magnet Recognition from the American Nurses Credentialing Center (ANCC) is something most hospitals and healthcare systems strive to achieve. The Magnet Recognition Program states "To nurses, Magnet Recognition means education and development through every career stage, which leads to greater autonomy at the bedside. To patients, it means the very best care, delivered by nurses who are supported to be the very best that they can be."
The ANCC offers the Pathway to Excellence Program. The Pathway designation recognizes health care organizations that demonstrate a commitment to establishing the foundation of a healthy workplace for staff.
Organizations can establish this foundation by using the ANCC Pathway to Excellence Framework which consists of six standards: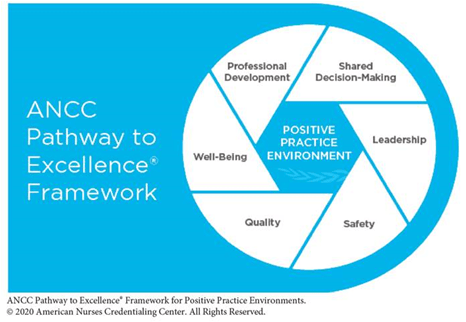 Shared Decision-Making creates opportunities for direct care Nurses to network, collaborate, share ideas, and be involved in decision-making.
Leadership supports a shared governance environment by ensuring that leaders are accessible and that they facilitate collaborative decision-making. This standard also emphasizes leadership development, orientation, retention, accountability, and succession planning.
Safety prioritizes both patient and Nurse safety, and fosters a respectful workplace culture free of incivility, bullying, and violence.
Quality is central to an organization's mission, vision, goals, and values, and is based on person- and family-centered care, evidence-based care, continuous improvement, and improving population health.
Well-Being promotes a workplace culture of recognition for the contribution of nurses and the healthcare provider team. Additionally, this standard provides staff with support and resources to promote their physical and mental health.
Professional Development ensures that Nurses are competent to provide care and provides them with mentoring, support, and opportunities for lifelong learning.
The number of health care organizations to hold both the Pathway and Magnet® designations simultaneously is growing! To learn more about this program, click here.
To see which organizations have achieved the Pathway to Excellence designation, click this link.