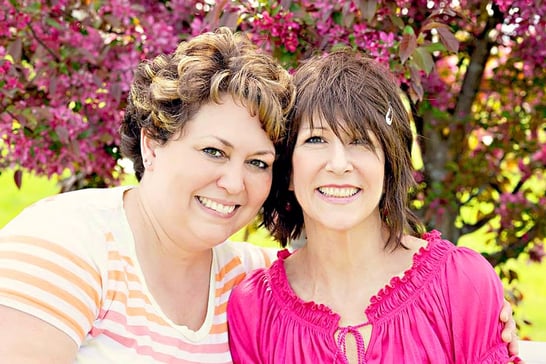 Two complete strangers, both named Tricia, meet and after 10 days one of them asks the other to take care of her 8 year-old son if she dies. Nurses are known to be caring and loving, always going the distance to help anyone in need. This story shows you a Nurse who goes beyond that. We see there are still great people out there and the power of instincts and compassion can save lives in more ways than one.
An angel. That's how Tricia Somers described her oncology nurse, Tricia Seaman, at PinnacleHealth Hospital in Harrisburg, Pennsylvania. "Before she even said anything, I just felt comfort. It was almost like someone just put a warm blanket on me," Somers told CBS News in 2014. "I've never felt anything like that before." The connection was so deep that when the single mom learned her cancer was terminal, she turned to Seaman with one last dying wish.
"Tricia looked at me and said, 'When I die, will you and your husband raise my son?'" the longtime nurse from Pennsylvania tells Us Weekly. Since the women had known each other just 10 days, Seaman encouraged Somers to take some time to think about her request. But Somers, who had no family to care for her beloved Wesley, 8, knew exactly what she was doing. "She later told me, 'I knew from the very first moment that I met you that you were going to help me,'" says Seaman. "'I didn't know how. I just knew you were going to help me.'"
And Somers was right. In May 2014, Seaman and her husband, Dan, welcomed both Somers and Wesley into their family. "Tricia was having trouble walking, she could barely move, and that was when we made arrangements to bring her here to our house," Seaman tells
Us
. "That way she didn't have to worry about trying to get food for Wesley, or worry about what medicine was due for herself. We took care of all of that."
When Somers passed away on December 7, 2014, at the age of 45, the Seamans became Wesley's legal guardians. No longer an only child, the now-10-year-old counts the Seamans' kids Anna, 20, Jenna, 18, Emma, 15, and Noah, 12, as his siblings.
"He's so fun. He's so his mom. I mean, she was just so larger than life," says Seaman, 43. "She and I had opposite personalities. I remember one time we were talking about our dating histories. Hers was very colorful, and mine was very boring. I was like, 'I dated this person and that person and then I met Dan and we got married and had a family.' She goes, 'Is that it!? Well, that's about as exciting as paint drying.'"
Seaman, who wrote the book God Gave Me You

about her friendship with Somers says the fifth-grader talks about his mom every day. "Tricia's a part of our lives and always will be," Seaman tells

Us

. "Even though she's not here with us anymore, we sure didn't lose, because knowing her and having the privilege to raise her son, what a gift. We're just so much better for knowing them both."