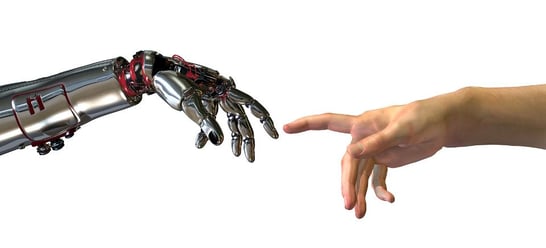 With technology consistently evolving, Nurses will see an influx of new advancements throughout the next couple of years. Nurses will have the opportunit
y to familiarize
themselves with robot surgery, advanced prosthetics, and virtual reality.
These new medical advancements will allow for more innovative techniques
to
help
you
provide the best care.
Nursing departments are known for their willingness to trial new medical technology. From advanced surgery techniques to virtual reality (VR) systems, nurses get to see cutting-edge technologies before most people even hear about them.
Here are three new advancements nurses will see in the near future:
1. Robot surgery
Today's robots may not look like those popularized in science fiction stories, but they have proven to be very useful. In fact, robots have already proliferated within the nursing field.
One of the most exciting robotic advancements in recent years is the da Vinci robot, a multi-limbed piece of equipment that can perform complicated procedures with fewer invasive cuts than traditional surgical methods.
A trained surgeon is still completely in control of the robot, but because the machine has delicate yet strong appendages, it can cut and stitch within highly confined spaces.
2. Advanced prosthetics
Prosthetics have come a long way since the turn of the century. Today, researchers are developing limbs that can be controlled by the patient's own neural system – exactly as they would control a real appendage.
According to MIT Technology review, researchers at Case Western Reserve University have created a prosthetic arm capable of translating thoughts into simple movements. Currently, the movements are simple, but it is a promising step forward.
Meanwhile, at the Massachusetts Institute of Technology, researchers are producing a line of powered prosthetic legs to help amputees walk again.
To see these futuristic biomechanical legs in action, check out the video below:
3. Virtual reality
VR headsets have already made their way into the consumer market, but there's still so much more that researchers can do with the technology. From VR-assisted physical therapy to augmented reality applications, the possibilities of VR medical technology are limitless.
MedicalFuturist explained that VR applications are helping stroke patients recover their motor skills more quickly. By making repetitive exercises more fun, the program increases patient motivation throughout the recovery process.
Nurses in rehabilitation settings are likely to see VR use become more common over the next few years as the technology becomes affordable.
Every day, technological advancements make life a little easier for patients and the professionals who treat them. The above solutions are already in use today and will only become more prevalent as time goes on.