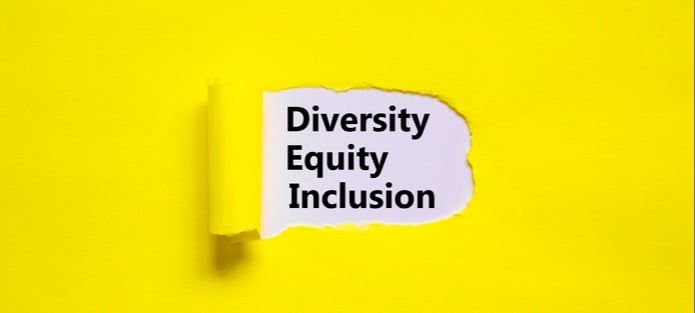 Diversity, Equity, and Inclusion (DEI) in the workplace is beneficial for employers, staff, and patients. More hospitals and health systems are recognizing the importance and are rolling out new DEI programs.
Diversity is the range of human differences, including but not limited to race, ethnicity, gender, gender identity, sexual orientation, age, social class, physical ability or attributes, religious or ethical values system, national origin, and political beliefs.
Equity recognizes that each person has different circumstances and allocates the exact resources and opportunities needed to reach an equal outcome.
Inclusion is an organizational effort and practice in which different groups or individuals having different backgrounds are culturally and socially accepted and welcomed.
The United States will continue to grow more diverse, so it is imperative the Nursing workforce reflects its patient demographic.
Historically underrepresented groups, combined, are projected to account for the majority of the U.S. population by 2044.
The Nurse.com 2022 Nurse Salary Research Report findings display a lack of Diversity in the nation's Nursing workforce.
The report found that although Hispanics make up 17% of the total population, only 3.5% out of the more than three million Registered Nurses in the U.S. are Hispanic.
Also only 2% of the survey's respondents were Black or African American men, whereas Black or African American women made up 8% of female Nurses. By contrast, Asian men made up 10% of male Nurses, and Asian women made up only 5% of female Nurses.
Having a diverse Nurse population improves patient care and satisfaction while also reducing healthcare disparities.
Research shows, when patients see themselves within the healthcare workforce, they are more likely to trust their provider, thus making the patient feel more comfortable.
This also breaks down communication barriers. When patients can't easily communicate their needs or fully express their concerns and issues, dire mistakes can be made.
When a Nurse has a lot in common with their patients, they can better advocate for them.
"Diversity in Nursing ultimately enhances the Nursing workforce," says Lorrie Davis-Dick, Nursing faculty member at Purdue University Global. "Nursing education and Nurse leaders recognize there's a link between a culturally diverse workforce and the ability to provide quality, competent patient care."
DEI is beneficial for patients, but also for healthcare professionals.
According to Built In, Diversity creates a stronger feeling of Inclusion and community for healthcare workers, which makes the workplace feel safer and more enjoyable. Surveys show that more than 3 out of 4 workers prefer diverse companies.
While Diversity is important, Diversity without Equity and Inclusion won't work. Healthcare teams must represent all backgrounds, while also giving each member a voice and the opportunities to grow.
Increasing Diversity in Healthcare is vital. It won't happen overnight, but it's crucial to create an environment where everyone is celebrated and appreciated. It requires dedicated leadership and staff who are looking to better the Nursing field.