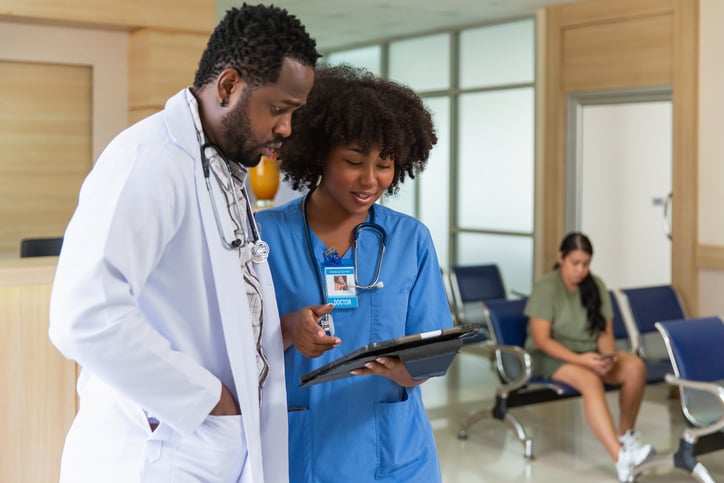 Congratulations on starting your Nursing career! Here are some pieces of advice that may help you as a new Nurse:
Never stop learning
Nursing is a constantly evolving field and there are always new things to learn. Attend continuing education classes, read Nursing journals, go to Nursing conferences, join Nursing associations, and stay up-to-date on the latest research.
Get to know your teammates
Don't hesitate breaking the ice, introduce yourself, others are probably wondering who this new person is! Once you get to know everyone, try keeping a close group of people you can rely on and talk to when need be. Every one needs a helping hand or shoulder to lean on time and again.
Sara Lentz DNP, MSN, RN, CNL at Heritage Dignity Health said, "Get to know everyone you work with, from the top to the bottom of the organizational structure. It doesn't matter if someone is cooking, providing bedside care, or a chief — everybody is there for a common goal and a part of your work family."
Don't be afraid to ask questions
As a new Nurse, it's okay to not know everything. Ask your colleagues and mentors for help when you need it.
Mary Erickson, RN, Clinical Care Leader at Sanford Health said, "Even after 34 years in the ICU, there is still plenty for me to learn and there will be for you, too. A Nurse who asks a lot of questions and continues to expand their knowledge and expertise will undoubtedly provide good, quality care to patients."
Be organized
Nursing can be a busy and demanding profession, so it's important to be organized. Develop a system for keeping track of your tasks, and prioritize your to-do list. Try taking notes or use a Nursing report sheet, so you can ensure you're always on top of your game.
Stay calm
One of the most important things a new Nurse can do is to remain calm under pressure. When difficult situations arise, it is a Nurse's job to provide a sense of calm for their patients and their families.
Develop good communication skills
Effective communication is essential in Nursing. Learn how to communicate clearly and effectively with your colleagues, patients, and their families.
"Look at your patient so you notice their nonverbal communication. Find ways to assess fine motor skill where they don't notice it. For example, when working home health have them reach for pen when signing paperwork. My assessment begins the minute I enter their room or when they open the door. Use ALL of your senses! Actively listen to patients and their family," says Nurse Kay.
Take care of yourself
Burnout in Nursing is common as it's a physically and emotionally demanding job. It's critical you take care of yourself. Get enough rest, eat a healthy diet, enjoy your social life, exercise regularly, and find ways to manage stress.
Be compassionate
Don't ever forget, you're in the profession of caring. It's important to be compassionate toward your patients and their families. Treat each patient as an individual, with their own unique needs, fears, and preferences.
Build a support network
This career can be challenging, so it's important to have a support system of colleagues, friends, and family members who understand what you're going through.
"Being a Nurse will change your life. It changes your outlook on a lot of things--makes you more passionate about some, thankful for some and just down-right mad about others," Nina Vella, RN, at St. Edward Mercy Medical Center said, adding that the best part of being a Nurse is "getting to genuinely make a difference in someone's life. When a patient tells you 'thank you for saving my life,' you can't help but to be proud. When you get to watch a patient that you didn't know would live or not walk out of a hospital and know that you are a part of the reason they can live again, you can't explain the feeling!"
Nursing is a rewarding profession that allows you to make a real difference in people's lives. With compassion, great communication skills, an inquisitive and confident nature, a good support network, and a commitment to stay healthy both mentally and physically, you will become an excellent Nurse and make a positive impact on the world.