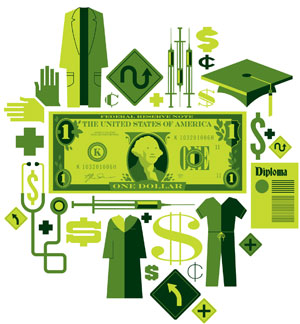 Some
people
choose to become a
Nurs
e
because of the salary
, only to discover
after experiencing it first hand, the money isn't worth it
and they leave
.
It takes a special type of person to be a Nurse.
If you're miserable, m
oney won't keep you happy throughout your career.
As you know,
Nurses are passionate about what they do and
often
find the job itself is rewarding.
I
t
'
s hard work and many wouldn't change a thing
.
A
t the end of the day
,
Nurses
are saving lives and
you can't put a
price tag on
that!
Back in the '70s
I recently heard some students brag about how they were going into nursing "for the money." This brought me back to my own beginnings as a new grad back in the '70s. Starting at $10 an hour, I was one of the highest paid nurses in town. My wife and I felt like we'd just hit a lottery, although we quickly adjusted to our level of affluence. Some of my contemporaries at the time didn't fare as well, taking care of eight patients at a time for $3 an hour. That's about $6,000 a year.
We worked hard back then. I know, the conventional wisdom is that it's so much harder today (although more than one recruiter and millennial as well has told me that some new nurses need to learn how to work). However, some new grads with whom I started were so stressed they couldn't pass meds without sobbing. I was hired into critical care with about 25 other new grads. We practiced without a license until we passed or failed boards (if you failed, you were an automatic nursing assistant with a reduction in pay until you passed). I'm not a delicate creature, but I wanted to cry while taking care of my first patient. (I didn't because I remembered that I was a "guy" nurse, and we weren't supposed to cry on the job.) My patient had just had a Whipple procedure, and his dressings and ostomy bags fell off every time I turned him, putting him way beyond my skill level.
Ultimately, I would insist that we all work hard for the money — back then and now. And as American RNs, we are the highest compensated nurses in the world. The question remains, is it worth it? As Boulder, Colo., ED nurse Melissa Moffatt, BSN, RN, said, "I hear [that people are entering nursing for the money] more and more these days. Of course, once they realize what hard work nursing is, many exit quickly."
"… as American RNs, we are the highest compensated nurses in the world. The question remains, is it worth it?"
Many nurses in the U.S., including staff at the bedside, earn six-figure salaries. With the long-predicted shortage about to explode, the money will just get better. In a hard-hitting report from Nurse.com, Salaries on the Upswing, annual pay, which had been flat for years and began rising steadily by 1.3%, has now accelerated to 2.6% per year. In the grand job-market arena, weighing region, education and experience, the money's not bad. But the work is hard — very hard — both physically and emotionally, and therein lies the rub.
Would you do it again?
Some people who become nurses talk about having a vocatione, a sacred calling, as do priests or nuns. I certainly did. Yes, practitioners should expect a fair working wage, but that shouldn't be the sole reason they choose a nursing career. Very few who go into nursing only for the salary stay in it. At least that's what my many Facebook friends think. Although, as my wife reminds me, they're not a homogeneous lot because I don't know them all as friends, really. There's too many of them.
"Some people who become nurses talk about having a vocatione, a sacred calling, as do priests or nuns."
I asked my Facebook nursing sample if they'd still be nurses if they could do it all over again. Then I asked if they feel or have felt appropriately compensated, remembering that there's always someone richer or poorer. Here's a sampling of opinions:
Carolyn Smeltzer, EdD, RN, FACHE, FAAN, retired partner in the Health Industry Advisory of PricewaterhouseCoopers: "Money never entered my mind. I went to help people and, Bob, I'm going to one up you. Graduated in 1972 and got $3.50 hr. And that included charge nurse and evening add ons! I was thrilled, and I got a car to get to work! Now, I agree that the nursing salary through my lifetime has been great, but I never expected it! Great profession!"
Nancy DiMauro, MA, RN, BC, dean of nursing program at ASA College, New York University: "For the money, no. For the great feeling of helping people with their health issues, yes. As they say, being a nurse is priceless."
Karen Mascolo, DNP, RN, assistant professor of nursing at Kent State University: "'Nursing ain't for sissies,' and if you choose nursing for the monetary benefits and not because you love the profession or love people, you will not stay. Through professional socialization, it becomes a part of your human fabric. It is impossible to separate being a nurse from your very being. It simply isn't and cannot be about the money. It truly is a calling — fortunately one that provides a decent living."
Donna Huether, RN, charge nurse, Newton Medical Center, Ogdensburg, NJ: "Definitely not the money. It has to be in your heart, or you shouldn't be doing it at all."
L.J. Bellard, BSN, RN: "I knew as a nurse I would have job security (technically I can find a job anywhere), and I would be comfortable, not rich. I was not looking for fame and fortune when I took my oath, holding the lamp. It is true that nurses are not paid what we may be worth, but who is? If I had to choose my profession all over again, I would still choose nursing without regret."
My Facebook friends basically told me that if you're a nurse, whatever job or role you're in, you better love what you do. The money's OK, but it's not what compensates you. It's the intangible rewards, like saving a life. -