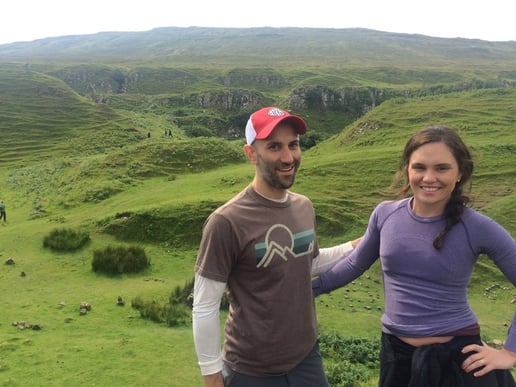 This is a beautiful tribute to Nurses and the work you do every day. The compassion and understanding you show your patients and their loved ones is amazing. Nursing is truly a calling because most people wouldn't have the patience and sensitivity you have to do your job well. Before you read this story, grab a tissue, because I think you'll need it. The young husband of a dying patient, has written a beautiful tribute and thank you note to the Nurses and medical staff who cared for his wife the seven days she was in the hospital under their care.
He is thankful for all of the little details you noticed, your sensitivity to her, him as well as her family and friends who came to visit. The fact that while he was grieving the loss of his wife, he took the time to write this very moving thank you note, says so much about Nurses in general. Please know, you are appreciated for all the big and little things you do for your patients and their families.
A Somerville man wrote a gut-wrenching letter to the staff members at Cambridge Hospital who treated his late wife, Laura.
Laura Levis, a Staten Island native, worked as a writer and editor for Harvard Magazine and the Harvard Gazette. According to her obituary, the 34-year-old died on September 22 from a severe asthma attack.
In his letter, Laura's husband, Peter DeMarco, described the amazing care provided by the ICU members at Cambridge Hospital over the seven days Laura was there. Read DeMarco's letter below.
As I begin to tell my friends and family about the seven days you treated my wife, Laura Levis, in what turned out to be the last days of her young life, they stop me at about the 15th name that I recall. The list includes the doctors, nurses, respiratory specialists, social workers, even cleaning staff members who cared for her.
"How do you remember any of their names?" they ask.
How could I not, I respond.
Every single one of you treated Laura with such professionalism, and kindness, and dignity as she lay unconscious. When she needed shots, you apologized that it was going to hurt a little, whether or not she could hear. When you listened to her heart and lungs through your stethoscopes, and her gown began to slip, you pulled it up to respectfully cover her. You spread a blanket, not only when her body temperature needed regulating, but also when the room was just a little cold, and you thought she'd sleep more comfortably that way.
You cared so greatly for her parents, helping them climb into the room's awkward recliner, fetching them fresh water almost by the hour, and by answering every one of their medical questions with incredible patience. My father-in-law, a doctor himself as you learned, felt he was involved in her care. I can't tell you how important that was to him.
Then, there was how you treated me. How would I have found the strength to have made it through that week without you?
How many times did you walk into the room to find me sobbing, my head down, resting on her hand, and quietly go about your task, as if willing yourselves invisible? How many times did you help me set up the recliner as close as possible to her bedside, crawling into the mess of wires and tubes around her bed in order to swing her forward just a few feet?
How many times did you check in on me to see whether I needed anything, from food to drink, fresh clothes to a hot shower, or to see whether I needed a better explanation of a medical procedure, or just someone to talk to?
How many times did you hug me and console me when I fell to pieces, or ask about Laura's life and the person she was, taking the time to look at her photos or read the things I'd written about her? How many times did you deliver bad news with compassionate words, and sadness in your eyes?
When I needed to use a computer for an emergency email, you made it happen. When I smuggled in a very special visitor, our tuxedo cat, Cola, for one final lick of Laura's face, you "didn't see a thing."
And one special evening, you gave me full control to usher into the I.C.U. more than 50 people in Laura's life, from friends to co-workers to college alums to family members. It was an outpouring of love that included guitar playing and opera singing and dancing and new revelations to me about just how deeply my wife touched people. It was the last great night of our marriage together, for both of us, and it wouldn't have happened without your support.
There is another moment — actually, a single hour — that I will never forget.
On the final day, as we waited for Laura's organ donor surgery, all I wanted was to be alone with her. But family and friends kept coming to say their goodbyes, and the clock ticked away. About 4 p.m., finally, everyone had gone, and I was emotionally and physically exhausted, in need of a nap. So I asked her nurses, Donna and Jen, if they could help me set up the recliner, which was so uncomfortable, but all I had, next to Laura again. They had a better idea.
They asked me to leave the room for a moment, and when I returned, they had shifted Laura to the right side of her bed, leaving just enough room for me to crawl in with her one last time. I asked if they could give us one hour without a single interruption, and they nodded, closing the curtains and the doors, and shutting off the lights.
I nestled my body against hers. She looked so beautiful, and I told her so, stroking her hair and face. Pulling her gown down slightly, I kissed her breasts, and laid my head on her chest, feeling it rise and fall with each breath, her heartbeat in my ear. It was our last tender moment as a husband and a wife, and it was more natural and pure and comforting than anything I've ever felt. And then I fell asleep.
I will remember that last hour together for the rest of my life. It was a gift beyond gifts, and I have Donna and Jen to thank for it.
Really, I have all of you to thank for it.
With my eternal gratitude and love,
Peter DeMarco