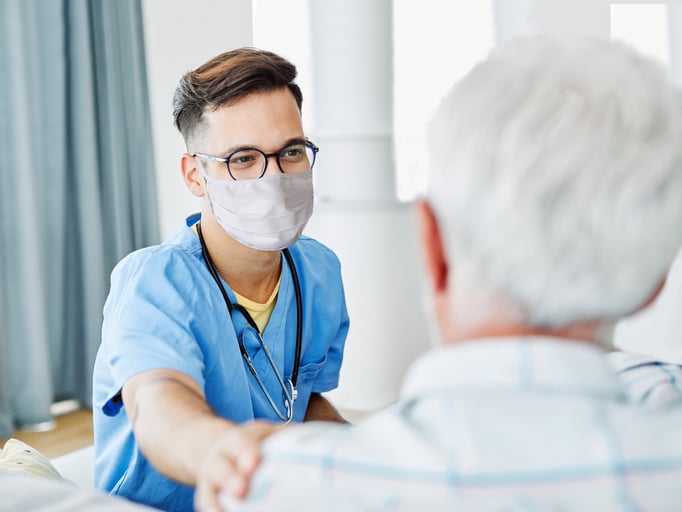 Patients become difficult for many different reasons. They sometimes become challenging due to diseases that affect their reasoning, like dementia or Alzheimer's. Other times, patients can become verbally or physically abusive due to high-stress situations or unmet wants or needs. Regardless of why some patients become difficult, Nurses can help handle and diffuse difficult patient interactions with these 5 helpful tips.
Stay Calm
It may be challenging to stay calm when dealing with a problematic or irrational patient, but controlling your emotions is one of the most important things you can do during a confrontation. Reacting to a patient with anger can only escalate the situation and make it worse.
When dealing with a difficult patient, remember in most cases, they are only being difficult to get their needs met and not to cause trouble. However, other times, patients may be misdirecting their feelings of fear or uncertainty onto you, and it is our job to help them navigate their feelings and de-escalate the situation. Some Nurses have found practicing meditation and yoga helps to develop healthy coping methods and strategies to navigate stressful patient interactions.
Control Your Body Language
It is only natural to become defensive during a controversial situation. Your body language can often speak louder than spoken words. When interacting with difficult patients, it is important to evaluate your nonverbal communication and ensure it is portraying the right message. You should also avoid standing with your arms crossed, as it can be interpreted as rude or standoffish. Learn to control your facial expressions, gestures, and posture during difficult interactions to help diffuse the situation.
Listen
When a patient becomes loud or argumentative, it's natural to respond with anger and defensiveness. In these times, it is essential to remember that the patient is coming from a place of needing to be heard. Whether their request is reasonable or not, we as Nurses must listen to their concerns or complaints.
If you set aside your own feelings about the situation and listen to what the patient is saying, you may be able to get more insight into the situation and come up with a better solution to the conflict. Many times, you may not need to come up with a solution for the patient. They just need someone to listen to them and feel heard. We have to remember, patients are usually in a vulnerable state when being cared for and can be scared, frustrated, or hurt. Listening is one of the easiest ways we can connect with our patients and help them to heal both physically and mentally.
Have Empathy
Empathy is one of the most important traits of a Nurse. When dealing with difficult patients, it is important to remember they are going through a tough time, and they may be displacing their anger onto you as their Nurse. Make sure you always try to put yourself in your patient's shoes to better understand where they're coming from. Patients are only human. They want to be heard and understood. If we connect with them through empathy, it will help to diffuse many uncomfortable situations.
Set Boundaries
As Nurses, it is our job to provide for the wants and needs of our patients, but it is important to do so within your set boundaries. Sometimes, patients demand things that are unreasonable. Make sure they understand the limitations of your role. As a Nurse, it is important to find the balance between meeting your patient's needs and also standing your ground and not letting a patient push you around. Some patients may try to take advantage of your kindness so it is important to set boundaries and stick to them.
Unfortunately, every Nurse has had the unfortunate experience of dealing with a difficult patient. Next time you find yourself in a challenging situation with a patient, keep these helpful tips in mind so you can get back to providing your patients with exceptional Nursing care.