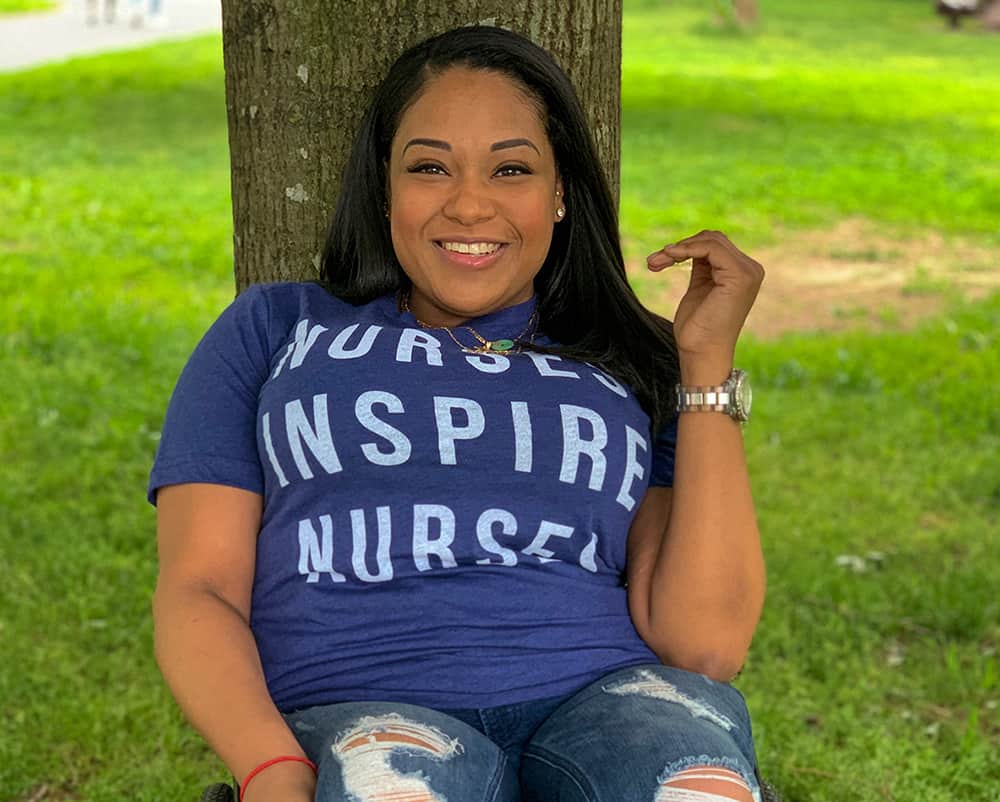 Applying for a new job can be overwhelming and stressful. For candidates with disabilities, the hiring process can be a disheartening experience.
According to the CDC, one in four adults in the U.S. has a disability; the unemployment rate for that community is double that of non-disabled workers.
Andrea Dalzell can relate to those who face unjust barriers when searching for employment. She is a disability advocate and New York State's first wheelchair-bound Registered Nurse.
Dalzell fights for those like her, qualified candidates who face discrimination and obstacles when applying for jobs.
Andrea was diagnosed with transverse myelitis when she was 5 years old and using a wheelchair full-time by the age of 12.
Her experiences with Nurses inspired her to become one. She received her Nursing degree from the City University of New York, College of Staten Island.
Even with her Nursing degree it was difficult to find work.
"I once went through 76 clinical Nursing interviews. I was rejected from them all until COVID demanded my help during the peak in NYC. The rejection from ever having a bedside Nursing position was flipped on its head as my wheelchair was seen for what it is: a mobility device", said Dalzell in an American Nurses Association interview.
Dalzell uses past negative experiences and turns them into a positive, as she can relate to patients who struggle with disabilities, and give them hope. She encourages them to persevere in the face of adversity.
However, she finds it frustrating that in the field of caring, many still face discrimination.
According to Employee Benefit News, Dalzell said, "We're forgetting that [enabling] technology has advanced so much, and should allow our healing touch and compassion to come into the profession and give hope in a way that is normally not seen. And yet when [people with disabilities] are saying they want to be Nurses or be on a healthcare team, we're saying well, you have a disability — you're not good enough."
Employers need to do more than just talk about Diversity, Equity, and Inclusion (DEI), they need to actually be about it.
"You cannot tell people you are an equal opportunity employer, tell them to come on in through the door," Andrea says, "but then be unprepared and your doors are not even big enough to accept someone."
"Disability is the fastest- and largest-growing minority in the world. Without disability inclusion, you could very well be limiting opportunities for your future selves," says Dalzell.
Andrea is a Pioneer and an inspiration to many. In recognition of her achievements, she's earned many spotlights, such as New Mobility's Person of the Year (2021). She was also one of the inaugural recipients of the Craig H. Neilsen Foundation Visionary Prize of $1 million.
Dalzell is still figuring out how she will use the money, but has already started a 501c3 nonprofit foundation called The Seated Position to create awareness around those with disabilities in education and the workforce.
According to New Mobility, Andrea attributes her tenacity to her parents, first-generation immigrants from Guyana, who encouraged hard work and perseverance. "I told Andrea, don't let anyone ever tell you there is something you can't do," says her mother, Sharon Dalzell. "Just look at them straight in the face and say, 'Watch me.' As long as you do it in the right way, you'll reap the benefits in the years to come."
Andrea knows it's important for people to see someone like her — a black, disabled woman — out in the world, making a life for herself and changing the lives of others.
You can follow Dalzell on Instagram @theseatedNurse where she posts her everyday life along with great motivational content. Also check out her website theseatednurse.com to learn more!