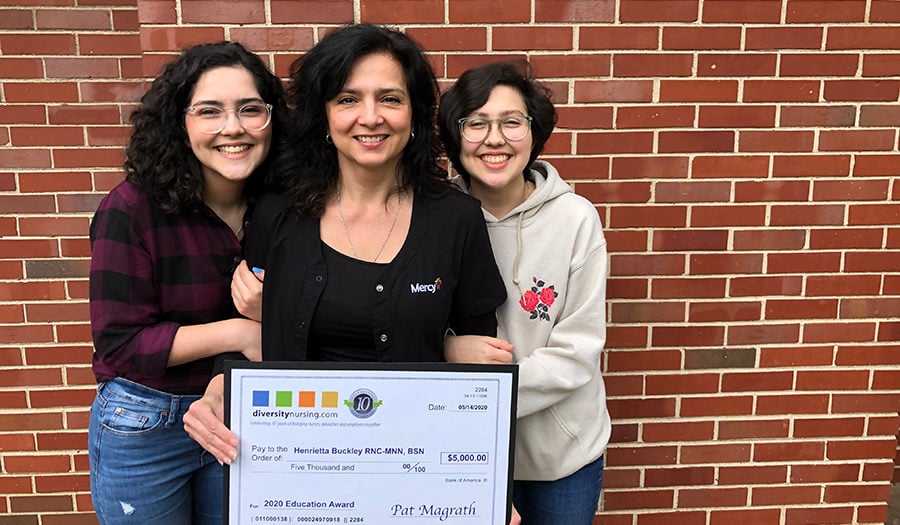 DiversityNursing.com announced the Winner of their 2020 DiversityNursing.com $5,000 Education Award. We are delighted to announce our Winner is Henrietta Buckley of St Louis, MO! Henrietta has enjoyed her career as a Nurse for 19 years and is currently working on her Master's degree in Nurse Education.
Henrietta plans to use her DiversityNursing.com $5,000 Education Award toward her Master's degree. Her words of advice to new Nurses "always be open to learning. Every day I'm learning new things. Be open to having students to mentor – you will feel their energy and excitement".
DiversityNursing.com is particularly honored to provide their Award this year as 2020 is the Year of the Nurse and Midwife. It is also poignant because of the burden the coronavirus has put on our Nurses and Healthcare workers.
This is the 12th year DiversityNursing.com has bestowed their Annual $5,000 Education Award. Pat Magrath, National Sales Director at DiversityNursing.comsaid "Our $5,000 Education Award is our way of giving back to the Nursing community. Our Award can be used to continue Nursing classes, payment toward Nursing school loans, or attendance at a Nursing conference."
For the past 12 years, many thousands of Nurses have registered on the DiversityNursing.com website for the Award. During Nurses Week in early May, 1 lucky name is drawn out of thousands to win the $5,000 Education Award. Pat said "Registration is quick and there is no essay requirement, which the Nurses love!".
Past Award Winners can be found here:
https://diversitynursing.com/past-education-award-winners/