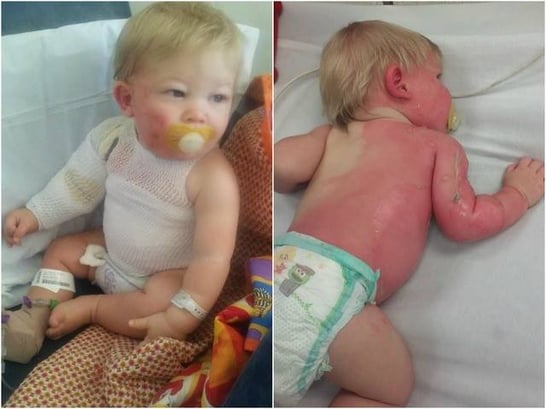 Children playing in sprinklers. A fun activity in the summer months. What could go wrong? Read on and find out.
An Arizona mother wants to warn other parents after her 9-month-old boy was accidentally sprayed with scalding hot water coming from the garden hose, causing second-degree burns to about 30 percent of his body.

Dominique Woodger said she was about to fill a little pool with water on Monday, as she normally does. When she turned on the faucet, the extremely hot water came out of the sprinkler head attached to the hose, getting all over her baby who was sitting on the ground.
"I thought he was crying because he was mad, because he hates when he gets sprayed in the face. I didn't think that it was burning him," Woodger told ABC News.
Woodger said doctors say her baby will be okay, but she doesn't want other parents or children to experience the same pain.
"It's heartbreaking. It is. It sucks," Woodger said. "All of it was peeling. He had blisters all over the right side."
Parents, please remember to always touch the water from the hose before you spray it on your child.
Related Articles: Practice safety around lakes, swimming pools