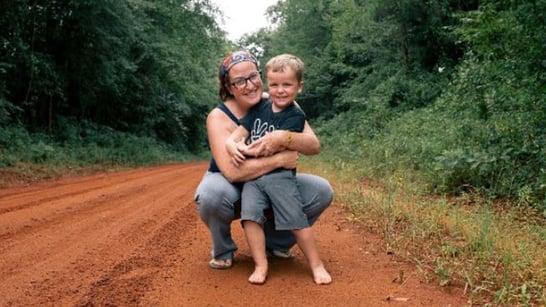 Pediatric Nurse, Meghan Nesom is an inspiration and a true example of strength. She has received heart breaking news that won't stop her from continuing her passion of healing others. Meghan reminds all of us how amazing Nurses are and no matter what they are going through in their personal lives, they will always try their hardest to stay positive and moving forward. Staying positive is something Meghan has clearly passed on to her son and once you see his response to his mother's diagnosis, you'll completely agree.
Nesom is a wife and mother who has been working as a pediatric nurse. She's helped heal children with cancer, and has also been there to comfort children in the moments they succumb to the disease.
"There is never a 'woe is me,' with kids," she says, "They just are fighters. They're wonderful."
And the same could be said of this brave woman, who, in a cruel twist of fate, has also been diagnosed with cancer.
But rather than feeling sorry for herself, her response is one of utter selflessness: she describes the relief of knowing it's she, and not her child, that's been diagnosed.
She underwent surgery and radiation three years ago to kill the cancer; now, however, it has returned in the shape of clear cell sarcoma, for which there is no cure. That also means she's recently been tasked with telling husband Philip and 4-year-old son Colin about the traumatic procedures she's about to undergo.
So, Meghan told her son that she was going to have to have her leg cut off — and his response truly proves that some children have a wisdom far beyond their years.
"He told me that all of his friends are going to be jealous because his mommy's going to have a robot leg," she proudly recounts.
And, despite already beginning oral chemo, she still continues to work as a nurse and help others. Like the retired nurse who spends her days driving cancer patients to their chemo appointments, Meghan has been tireless in her quest to help others.
Her coworkers have been by her side through it all, even raising a whopping $10,000 to help cover medical costs.
To help this fantastic woman who has devoted her life to helping others, visit her GoFundMe page.
Please SHARE this story with friends and family!