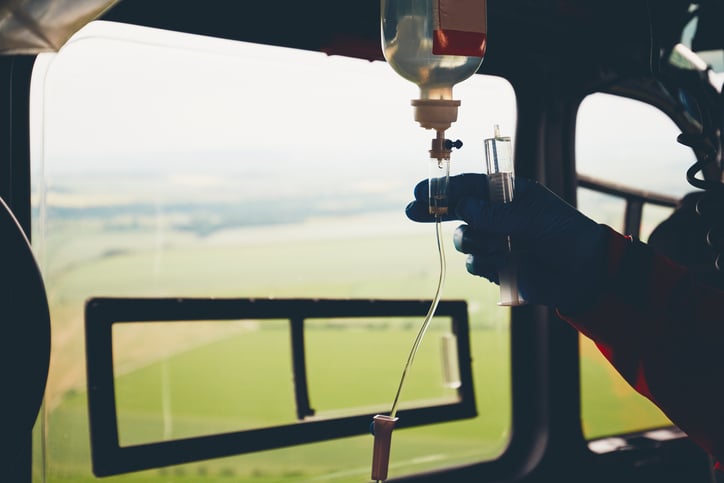 Emergencies can happen anywhere and patients need to be transported to facilities via ambulance or flight. This is when Critical Care Transport Nurses (CCTNs) are needed.
These Nurses travel with patients on the ground or in the air, providing dire medical care until they reach their destination. It is fast paced work often in smaller, more confined areas with limited equipment and tools.
"Critical care transport encompasses any type of critical care patient who needs to be moved from one facility to another to a higher level of care," says Wanda Keaton, MHA, BSN, RN, CCRN, CFRN, Nurse Manager of Critical Care Transport at Cleveland Clinic. "We can transport these patients by ground in a mobile ICU, in a helicopter or in an airplane."
The motto of the Cleveland Clinic critical care transport teams is "no patient too sick, no patient too far."
CCTNs can work in a variety of settings such as:
Government agencies
Hospitals
Independent transport companies
International medical organizations
Long-term care facilities

The majority of their time is spent in:
Ambulances
Airplanes
Helicopters
Ships specially outfitted for critical care transport

"Is it stressful and scary? Yes! Do I love every minute of it? Absolutely!" -- Alice Benjamin, APRN, MSN, ACNS-BC, FNP
Successful CCTNs should posses a range of skills such as:
Advanced Nursing knowledge
Excellent communication skills
Ability to deal with stress and keep calm
Confidence in your knowledge, training, and abilities
Physical endurance
Ability to adapt to changing circumstances


How to become a Critical Care Transport Nurse:
Earn an Associate degree in Nursing (ADN) or a Bachelor of Science in Nursing (BSN) degree

Pass the NCLEX exam to receive RN licensure

Earn your advanced life support certification

Gain experience in Emergency, Med-Surg, or Critical Care Nursing

Consider becoming certified

Nursing Certifications to consider:
BLS

– Basic Life Support

ACLS

– Advanced Cardiac Life Support

CFRN

– Certified Flight Registered Nurse

TPATC

– Transport Professional Advanced Trauma Course


The average Critical Care Transport Nurse salary in the United States is $91,700, according to Salary.com.
"All of our Nurses feel like they learn something new every day," says Keaton. "There's never a dull day for a Critical Care Transport Nurse."
To learn more about this field, visit Air & Surface Transport Nurses Association