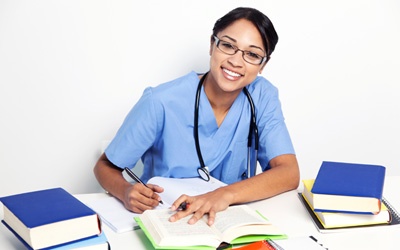 If you're thinking about continuing your education or are just starting out with your Nursing education, we think this article might be helpful to you. Let us know what you think.
When Texas resident Barbara Chapman explored different online graduate nursing programs, she knew finding one that was accredited was key.
Accreditation, experts say, ensures that an unbiased agency recognized by the Department of Education reviewed a program to validate its quality and rigor.
"It's the first thing that they ask when you're even applying for a job: 'Did you graduate from an accredited program?'" says the 56-year-old. Other universities, should a student pursue a higher-level degree, often ask the same question, she says.
After doing research online, Chapman chose the University of Texas—Tyler's hybrid nurse practitioner master's program, verifying its accreditation from the Commission on Collegiate Nursing Education, or CCNE – one of two main nursing accrediting bodies recognized by the Department of Education, a status that also ensures students are eligible for federal financial aid.
Chapman might be onto something. When choosing an online nursing degree program, experts say, prospective students should check that it's accredited by either the CCNE or the Accreditation Commission for Education in Nursing, or ACEN. The former focuses on baccalaureate and graduate programs, including online; ACEN accredits nursing programs at all levels.
Accreditation for a specific nursing degree is separate from accreditation for the university as a whole, experts say. Prospective online students can usually determine the status of both on a school's website. The ACEN and CCNE also list the nursing programs they accredit online.
Here are four things prospective online students should know about accreditation in online nursing programs before enrolling.
1. Accreditation is particularly important to employers when it comes to online programs. Employers often want to verify the legitimacy of online nursing degrees, experts say. The Department of Education determines that agencies such as the CCNE and ACEN are reliable authorities on legitimate programs.
"It is very much a high, high mark of quality," says F. Patrick Robinson, dean of the school of nursing and health sciences at the online, for-profit Capella University.
Many potential employers will confirm that both an applicant's online nursing degree program and the overall institution it's a part of are accredited, says Jennifer Butlin, CCNE's executive director.
When looking at the university's overall accreditation, prospective students should be aware that some online, for-profit schools hold national accreditation. But many experts say most employers historically prefer regional accreditation at the university level through agencies such as the Middle States Commission on Higher Education.
2. The ACEN and CCNE hold online programs to the same standards as on-ground programs. Sharon Beasley, an associate director for ACEN, says the accreditation process for online programs has an additional layer of review focusing specifically on distance education.
For example, ACEN typically reviews whether faculty are trained to teach online and the ways learners and professors interact virtually.
Knowing that, prospective students shouldn't assume online learning is easier or less intensive than on ground, experts say.
3. Accrediting bodies require online nursing programs to have clinical or practicum components in person. Experts say accredited programs classified as online still require students to attend sessions in a health care facility or another face-to-face setting – sometimes near a student's home, though this varies.
"You do need to have access to professors who can show you how a specific procedure needs to be done," says Chapman, the UT—Tyler student.
At Excelsior College, almost every online nursing program has a clinical or practicum component mixing virtual labs and in-person experiences, says Barbara B. Pieper, associate dean for RN-to-bachelor's and master's programs. She says it's especially important for online learners to determine the time commitment and location details because many hold full-time jobs and can't travel far.
4. Online degree programs regularly undergo re-accredition and review.
New online nursing degree programs are constantly springing up at universities, and prospective students need to keep in mind that each one gets accredited in its entirety, including if it has multiple tracks, Beasley says.
Butlin, of CCNE, says a review also takes place if there's a significant change in delivery – such as a blended program changing from 20 percent online to a majority online – to ensure it continues to comply with accreditation standards.
CCNE and ACEN require nursing degree programs to undergo re-accreditation every several years, officials say. Therefore, it's essential that prospective students look at a program's accreditation history, says Mary Jean Schumann, senior associate dean for academic affairs at George Washington University's School of Nursing.
Chapman says she knows of students who didn't do enough research beforehand.
"They were either promised that they would eventually become an accredited program and it did not, or they were in a program and it lost accreditation, and it was devastating to them," she says.
If you have questions regarding this topic or any other general questions, feel free to ask one of our Nurse Leaders!