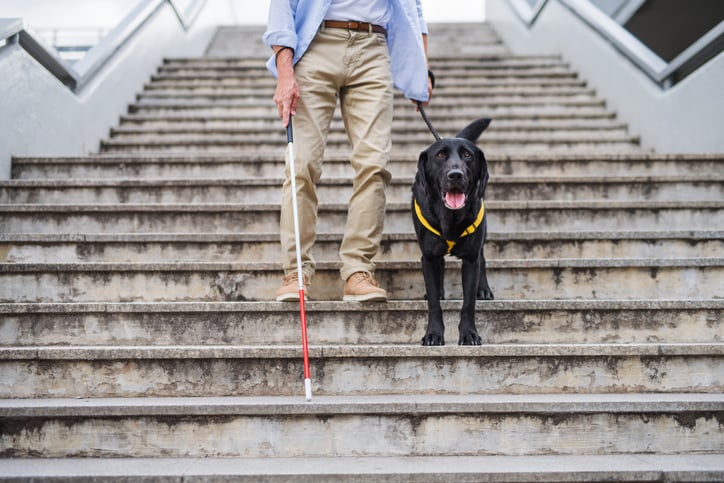 Vision impaired patients face many challenges when visiting hospitals for treatment. There are different ways staff and hospital design can help assist patients who are struggling.
According to research from JAMA Ophthalmology, vision-impaired Medicare beneficiaries and commercial health insurance patients had significantly higher healthcare utilization and costs during and immediately after hospitalization. This is happening because vision-impaired patients have difficulty following hospital routines and struggle to read discharge orders and medication instructions. The excess costs were estimated at more than $500 million annually.
Hospital staff can play a major role in helping these patients by being actively engaged with them and their families.
Lisa Allen, PhD, MA, Chief Patient Experience Officer at Johns Hopkins Medicine in Baltimore, which includes the Wilmer Eye Institute, says, "The biggest issue is to ask the patient or the patient's family what they need to keep them safe. We need to ask that question to everybody, but that patient engagement question is the most important piece for visually impaired patients. When we assume there is a one-size-fits-all for the visually impaired, we are making a mistake. In other words, if you are not a braille reader, and many blind people are not braille readers, then having braille is not going to help when you are in the hospital."
According to Health leaders media, Johns Hopkins Medicine and Bascom Palmer Eye Institute shared their best practices for caring for vision-impaired patients which included measures designed for discharge and medication management, patient safety, and special accommodations.
Johns Hopkins provides discharge instructions in large font type and has the capability to audio-record instructions for patients. They also provide discharge instructions in a format that can be used with a screen reader.
Johns Hopkins staff are trained to promote safety. After surgery, all Johns Hopkins patients have a staff member with them when they are getting up for the first time and when they are walking the hallways.
The Americans With Disabilities Act (ADA) says, staff should initiate an introduction to a patient who is blind by addressing the patient by name. They should always identify themselves by name and function and the reason they are there.
At the University of Miami Health System's Bascom Palmer Eye Institute, stairwells are designed to lower fall risk for vision-impaired patients. They lengthened the staircase guard rails so they extend beyond the bottom of the stairs.
Johns Hopkins is implementing a Bluetooth way-finding app that can be used from home and while using public transportation. "We made sure when we bought the program that it had voice capability, so it can tell you to go to an elevator, it can tell you that you are at an elevator, it can tell you what floor button to push, and it can guide you throughout the inside of the hospital", said Allen.
If your health system does not have a bluetooth way-finding app, the ADA recommends being verbally specific. When a visually impaired patient wants to independently find their way with a cane or a guide dog, be sure to use right and left as they apply to the person who is blind. What is on your right is on the left of a person facing you. For example indicate the number of blocks, hallways, or doors to the elevator. Let the patients know exactly how far the bathroom is located outside of their room or where their food is closely located to them inside their room and what the food is. Verbal interaction is key.
It is important to offer assistance in a way that is not demeaning to the patient. With more research and input from patients, the future of health system's best practices should improve to provide even better patient care.