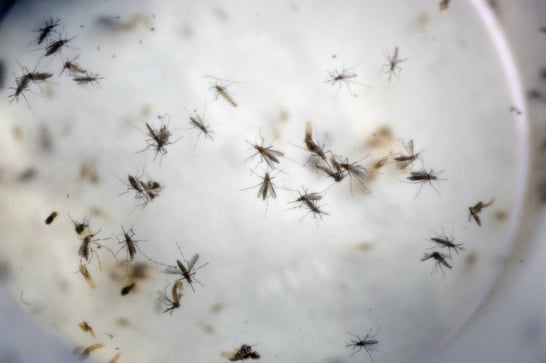 In case you haven't heard the latest news about the Zika virus in south Florida, please read this article for the most recent information. We hope you find it helpful.
For the first time, the Zika virus has prompted public health officials to warn pregnant women to avoid traveling to a part of the continental United States. The travel advisory comes in response to a growing outbreak of the mosquito-borne disease in South Florida.
The state on Monday said there are 10 more people who have been infected with the Zika virus who likely contracted it from local mosquitoes, bringing the total number of such cases in the state to 14. All of the cases have surfaced in a densely populated community north of downtown Miami.
Because the virus can have devastating consequences for a fetus, the Centers for Disease Control and Prevention urged pregnant women to avoid traveling to the area, and for pregnant women who live and work there to make every effort to avoid mosquito bites and to get tested for possible exposure during each prenatal visit. It also advised women to use protection during sex, because the virus can be transmitted sexually.
Furthermore, the CDC is advising that all pregnant women should be asked about travel to Zika-infested areas during routine prenatal visits. Any pregnant women who have traveled to Zika areas -- including this area of Florida on or after June 15 -- are advised to talk with their healthcare providers and get tested for Zika.
For couples trying to have a baby, women and men who traveled to this area should wait at least eight weeks before conceiving a pregnancy. Men with symptoms of Zika virus disease should wait at least six months after symptoms begin to attempt conception.
CDC Director Tom Frieden said the agency issued the travel warning because of the additional Zika infections that were identified in the last 48 hours, and because of new information that indicates mosquito control efforts are not working as well as officials would have liked.
Frieden said it's possible the insects have developed resistance to some of the insecticides being used, or that the mosquitoes are able to continue laying eggs in "cryptic breeding places," or that it may simply be that it's very difficult to do mosquito control in this particular area.
He said more infections are likely, because four out of five people with Zika don't have symptoms.
Although the CDC issued a similar travel warning for Puerto Rico in January because of widespread transmission on the island, this is the first time the agency has issued such a travel advisory for the continental U.S., Frieden said.
The CDC already has two of its experts on the ground in Florida, and six more will be there by Tuesday as part of a rapid-response team. The experts include specialists in birth defects, mosquito control and community engagement.
In a statement, Gov. Rick Scott (R) said state health department officials believe that active transmission is occurring in one several-block area that was announced on Friday. This remains the only area of the state where the health department has confirmed ongoing local transmissions of Zika. Among the 10 new cases announced Monday, six people are asymptomatic and were identified from the door-to-door community survey that the health department is conducting.
The Zika area is a dense, diverse section about one-mile-square that includes the neighborhood of Wynwood. It has now become the first area in the continental United States with confirmed local spread of the Zika virus. State and federal officials have warned for months that such a transmission was inevitable.
Wynwood is one of Miami's trendiest neighborhoods and draws visitors from around the world to gawk at the array of murals and exquisite graffiti on the walls of warehouses. Once known primarily as a Puerto Rican enclave, and sometimes called Little San Juan, Wynwood has gone through multiple transitions in recent decades and a recent spurt of gentrification. In the 1980s it became a magnet for artists looking for affordable studio space. It's now internationally renowned for its outdoor art as bars, cafes and art galleries spread throughout the neighborhood.
Tourists were still visiting the neighborhood this weekend, largely unconcerned about the Zika outbreak, according to local news reports.
At the present time, there is no need for the travel advisory to be broader than this specific Zika-affected area, Frieden said. Unlike other mosquito-borne diseases that can be spread by humans and animals, there are no other animal reservoirs for the Zika virus other than infected humans. The virus spreads most easily in crowded settings where people don't have access to air condition or window screens, and where there are large numbers of Aedes aegyptimosquitoes.
In addition, the mosquito can only travel about about 150 yards during its lifetime, he said.
"There wouldn't be a technical or scientific basis to give a broader recommendation," Frieden said.
"Nothing we've seen so far indicates widespread transmission," he said. "But it's certainly possible we could be seeing sustained transmission in small areas."
About 40 million people from the United States travel every year to the nearly 50 Zika-affected countries that are mainly in Latin America and the Caribbean, and could get infected unknowingly through a mosquito bite. "Everyone coming back should use repellent for three weeks in case a mosquito bites them and they get infected," Frieden said.
Because the Aedes aegypti mosquito is also present in parts of 30 states, pregnant women in all of those places should protect themselves against mosquito bites, he said.
"The frustration is that this wasn't unexpected," and Peter Hotez, dean of the National School of Tropical Medicine at Baylor College of Medicine. "It's not like we were caught by surprise. We knew this train has been heading our way."
Hotez said the outbreak in Florida is beginning to make clear why lawmakers on Capitol Hill should have to appropriated funding for states and counties to prepare for the Zika threat. The Obama administration requested nearly $2 billion to prepare for the virus in February, but the House and Senate left for their summer recess last month without approving any new funding.
"Congress didn't do their homework," Hotez said, noting that the congressional recess corresponds nearly exactly with the peak of the season when mosquitoes traditionally spread the most viruses such as Zika. "They left. So I don't have kind words to say about Congress right now."

Republicans and Democrats in Congress have been deadlocked for months over a $1.1 billion spending bill that would help fight the spread of Zika and there is no sign that outbreak in Florida will spur either side to action.

Democrats in the Senate have blocked the funding package drafted by congressional Republicans over politically motivated language, including provisions that would deny Zika-related funds from being sent Planned Parenthood and loosen environmental regulations on pesticides. Democrats also want the funding to be increased to nearly $2 billion without corresponding cuts elsewhere in the budget.
Last week, Senate Minority Leader Harry Reid (D-Nev.) called on Senate Majority Leader Mitch McConnell (R-Ky.) call a special session of Congress. "We need to act now," Reid said.
Senate Republicans responded by blaming Democrats for blocking the House-passed spending bill. McConnell and Florida Sen. Marco Rubio (R-Fla.) have both said President Obama should use money left over from fighting the Ebola virus to combat Zika. On Monday, Rubio also pushed for Congress to come back to Washington early to vote on a long-term Zika spending bill.
"A week ago, before the cases were announced, I had asked President Obama to take $300 million that's disposable, that he has under his control," Rubio said at an event in Clearwater. "I'm prepared to go back in a moment's notice and vote on this and get it done quickly given the state of affairs now."
The lack of funding has hindered the ability of many localities to conduct surveillance that could identify new cases of Zika, Hotez said. In many parts of the Gulf Coast, underfunded districts simply have no capacity to monitor for the disease or to actively fight the mosquitoes that spread it.
"[Miami] is just the one outbreak we know about," he said. "I think it's equally possible that multiple outbreaks are simultaneously occurring up and down the Gulf Coast and Florida."
Like other communities, Hotez said, South Florida has the major elements needed to lay the groundwork for a Zika outbreak – the Aedes aegypti mosquito that primarily carries it, a population never before exposed to the virus and densely populated areas.
"We should expect to see multiple outbreaks of varying sizes occur in South Florida and the Gulf Coast during the traditional peak of arbovirus season," he said. "Everything we've known about this epidemic in the Western Hemisphere indicates this is a virus that, when it gains a foothold in a population, can aggressively spread."
Scott said health officials have been testing individuals in three locations in Miami-Dade and Broward counties for possible local transmissions through mosquito bites. Two locations have been ruled out for possible local spread. His statement did not provide additional details on location.
Since the health department began its investigation July 7, more than 200 people in Miami-Dade and Broward counties — who live or work near the likely mosquito-borne transmissions — have been tested for the virus. These people have provided blood and urine specimens.
Of the 14 individuals identified, two are women and 12 are men. The governor's statement did not say whether either woman was pregnant.
Although no mosquitoes have yet tested positive for the virus, Frieden explained that confirming infections in mosquitoes is much harder than confirming them in people — which is why there can be local transmission even in the absence of positive insect tests.
Most of the 14 infections were identified within a much smaller geographical section in the center of the Zika area, Frieden said. He described it as 150-yard area surrounding two workplaces.
Mosquito control is difficult in this area because it has a mix of industrial and residential buildings.
Testing for Zika is challenging because four out of five people don't show symptoms. The virus is primarily spread through the bite of an infected Aedes aegypti mosquito, but it can also be transmitted through sex. That means someone who has been bitten by an infected mosquito could unknowingly spread the virus to a sex partner. And an infected person can pass the virus back to another mosquito, which can then infect another person through a bite.
June 15 is the earliest known date that one of the 14 people in Florida could have been infected, the CDC said.
Scott said Florida would rely on the approach it has taken in tackling similar mosquito-borne viruses, such as dengue and chikungunya, which are spread by the same mosquito species.
He encouraged residents and visitors to drain standing water and use bug spray. But the governor added: "Florida remains safe and open for business. This year, we have already welcomed a record 30 million tourists and we look forward to welcoming more visitors to Florida this summer."
The exact location of where the health department believes there are active transmissions of the Zika virus is within the boundaries of the following area: NW Fifth Avenue to the west, U.S. 1 to the east, NW/NE 38th Street to the north and NW/NE 20th Street to the south. This area is about one square mile, and a map below details the area.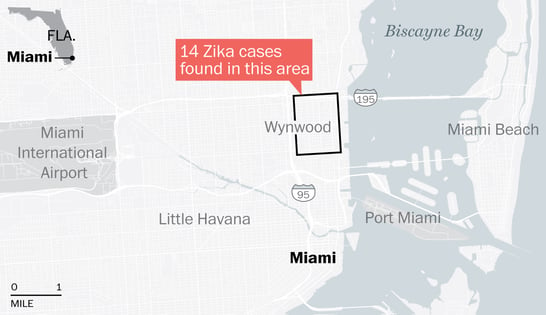 Gayle Love, a spokeswoman for Miami-Dade County Solid Waste Management, said officials have been going door-to-door in the affected area, eliminating sources of standing water and spraying for mosquitoes, both from trucks and by hand. Workers also have intensified their efforts just beyond the community where the transmission occurred, in an effort to halt further spread of the virus, she said. Officials also have rotated pesticides in an effort to combat resistance among mosquitoes to the treatments.
The local cases of Zika have gotten the attention of local residents. Love said that on Friday, the day public health officials disclosed the first locally transmitted cases, her department received 224 calls requesting mosquito abatement -- far more than any other day in recent months. "People are concerned," she said.
Still, she said it is imperative that people do their part to cover or drain any water containers around their homes and wear repellent -- messages local authorities have been trying to hammer home for months. "There's a tremendous level of personal responsibility associated with this," she said.
One of the biggest hurdles in controlling the spread of Zika is that most people don't get sick. And in pregnancies, problems may not be apparent until six or seven or eight months later, Frieden said.
Zika can cause microcephaly, a condition where babies are born with abnormally small heads and often underdeveloped brains. But even babies who look normal at birth can have a variety of other severe neurological problems, and no one knows the scope of those problems yet.
"It is a scary situation but it's not immediately apparent to people," Frieden said.
The Aedes aegypti mosquito can breed in the smallest spots in and around homes. Its larvae don't necessarily need water to survive, and eggs can lie dormant for a year or more, only to hatch once submerged in water. The sticky eggs glue themselves to containers as common and varied as the insides of old tires and the edges of birdbaths.
Aedes aegypti mosquitoes are aggressive daytime biters, especially around dawn and dusk. They can hide under beds, in closets or in other shady places. They are "sip feeders," meaning they feed often and on multiple hosts — a practice that makes it possible to spread disease quickly. They also are adept, experts say, at launching sneak attacks, in which they approach people from behind and bite them on the ankles and elbows to avoid being detected and slapped.
Joel Achenbach and Kelsey Snell contributed to this report.