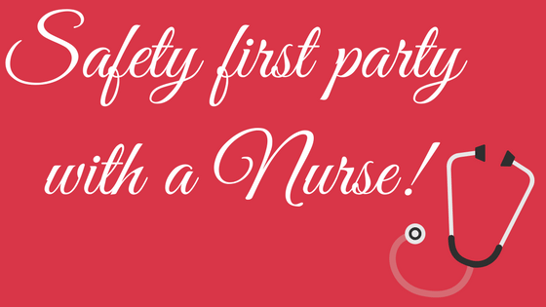 It's officially summer and we looked around for some creative ideas for you to show your Nursing colleagues, family and friends at a cookout or party. Perhaps you're planning a graduation party for a Nursing student. Whatever event you're planning or attending, these fun recipes are sure to impress any time of year -- enjoy!
If you have some of your own recipes, please share them in the comments section below. Happy Summer!
Drinks
Have Murse-y Margarita
1 oz. creme de banana
1 oz. gold tequila
1/2 oz. triple sec
3/4 oz. lemon juice
1/4 mashed banana
Apply lemon juice to the rim of a frosted double-cocktail glass and dip into caster sugar. Fill the glass with crushed ice, add the ingredients and blend briefly. Serve with a lemon juice-dipped slice of banana.
Nightingale Old Fashioned
mix 2 oz bourbon
1 1/2 teaspoons simple syrup
2-3 dashes of Angostura bitters
one orange slice, ice, and one maraschino cherry.
The Night Shifter
1 oz. After Shock Fizzy Orange
1 oz. Sambuca liquor over ice.
Then, top off your glass with chilled Red Bull.
Gin and Colonic
6 mint leaves
1/4 lime, sliced
1 1/2 oz gin
and one tablespoon sugar to a shaker and muddle.
Then, add 4 or 5 cucumber slices to the shaker and shake vigorously. Finally, pour the mixture over a glass containing 4 ounces of tonic water and a few ice cubes. Stir, let sit for a few minutes.
Code Brown
1/2 oz. Butterscotch Schnapps
1/2 oz. Whiskey

Hematoma
2 oz. vodka
4 oz. tomato juice
Juice of 1/2 limes
1 1/2 tsp. Worcestershire sauce
6 dashes Tabasco sauce
salt and pepper
1 lime wedge
Add vodka, juices and sauces to a shaker with ice, adding salt and pepper to taste. Shake vigorously. Strain over ice cubes into a highball glass and garnish with lime wedge.
The End-of-Shift Report (aka Irish Coffee)
1½ oz. Irish whiskey
1 tsp. brown sugar
6 oz. hot coffee
Heavy cream
Combine whiskey, sugar and coffee in a mug and stir to dissolve. Float cold cream gently on top. Do not mix.
Desserts
Frosted and sprinkle cookies. Idea from www.iheartsprinklescookies.com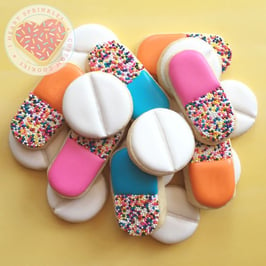 Pretzel sticks dipped in white chocolate with frosting details. Idea from Pinterest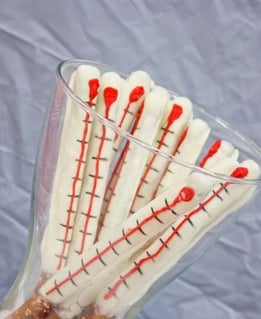 Brain cupcakes! Idea from blog.wantsandwishesdesign.com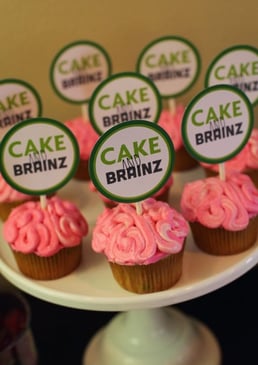 Jello shot syringes. Idea from Pinterest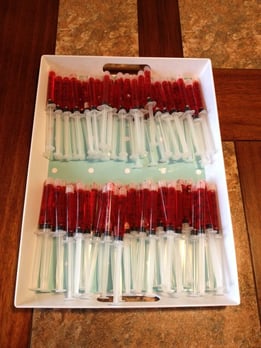 Cookie bandaids! Idea from partysupplies.art-spring.net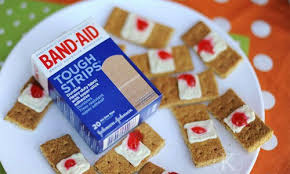 If you have any recipes you would like to share, please comment below!