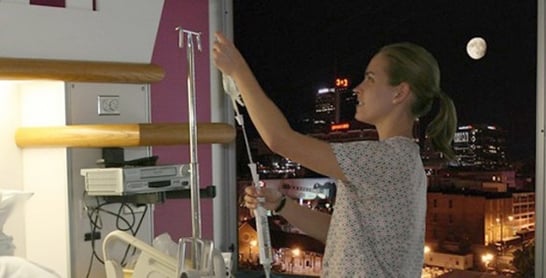 Perhaps you work the 3
rd
shirt or are thinking about it. Some Nurses love it for various reasons. Usually because they are married with children and working this shift can provide time with them. Of course it's helpful to have a partner that can share in the household and child responsibilities.
Does working the 3
rd
shift make your life better?
Linda, a Neonatal Nurse, talks about the different lifestyle of working the 3rd shift and how it takes a certain mentality. The schedule can allow for flexibility and work/life balance, including time with her children and not being a "hermit". This shift is perfect for her, but may not be the perfect fit for everyone.
What are your thoughts about the 3
rd
shift?
Linda Calerco is not a fan of early-morning TV. "It's just a lot of bad talk shows, a lot of interviews with people from these obscure shows I've never heard of," she says. But Calerco, an emergency room nurse who works from 7 p.m. to 7 a.m., admits she's probably not the target audience.
"Is there a show for exhausted nurses who are all keyed up and want to relax a bit before getting some sleep? Probably not," she says. Unwilling to commit to watching movies or TV shows after work -- "If I fall asleep, I miss the whole thing. If I stay awake, I can't fall asleep." -- Calerco says her lack of entertainment options are a small price to pay for her dream hours.
"I love third shift. The reason I started was because that was all that was available at Resurrection Hospital (in Chicago) when I first started working," she says. "But then after I had two children, third shift seemed to be the most logical time for me to be able to work and still spend time with my kids."
Because of her hours, she was able to pick up her kids from school, get dinner started and maintain the house while her husband picked up other responsibilities. "It's nice having a spouse who gets it, someone who can fill those holes you have in your day because of your schedule," Calerco says.
And the work isn't bad either. Calerco says the late shift in the emergency room is always interesting. "Some nights are crazy -- nonstop -- but others are pretty routine," she says. "You get sick kids, the guy who sprained his ankle playing basketball, some geriatric patients. It's pretty diverse, and there are always people coming in. But there can be a little calmness to it, if that makes sense. There's all this activity in the ER and then you walk outside during a break and it's dark and silent. I love that."
Rhonda Brownston, a 32-year-old neonatal nurse at Houston Methodist Hospital, says she views her third-shift hours as a connection between the numerous medical tests that often occur during the day and the resulting observations that must take place in the early hours of the morning. "We certainly do a lot of the same things that nurses on other shifts do but I've always thought of my time with our patients as a transitional phase," says Brownston, who works from 11 p.m. to 7 a.m. "It's not just monitoring sleeping babies. Things happen all the time -- there is no easy night -- but by the time I leave, I want my patients ready for the next day. I want them safe, responsive and recovering."
Brownston says she chose the third shift because it allowed her to take evening classes after she graduated from the University of Texas in 2009. "I was studying to be a physician's assistant but gave it up," she says. "But the hours stuck. I realized I really liked those early mornings in the hospital. I like the flow of it, the movement. It's like a ballet, really. We're just in constant motion and it's like we're following this choreography that focuses strictly on the patient."
"Think of a hospital floor as a stage. When you work nine to five or during the busiest portions of the day, there's a bunch of people walking across that stage - doctors, visitors, delivery guys -- and you have to dodge around them," she says. "At two in the morning, it's just us. We get into this rhythm because we don't have to worry about fielding a bunch of questions or getting around the guy who's bringing up somebody's flowers or pizza."
Brownston says she arrives home by 8 a.m. each morning and usually spends an hour "decompressing," and then it's time to sleep. "I get in six or seven hours," she says. "If I'm up before 3 p.m., I'm going back to sleep."
With her awake time, Brownston runs errands, goes to the gym and has dinner with friends. "It's a different lifestyle but I like it," she says. "I still go out on the weekends or when I'm off. I'm not a hermit. I have friends and do a lot of fun things. It's what you make of it."
Calerco agrees. "You do what works for you," she says. "My friends can't understand how I like my hours but it's always been what works best for me. That's why I do it."