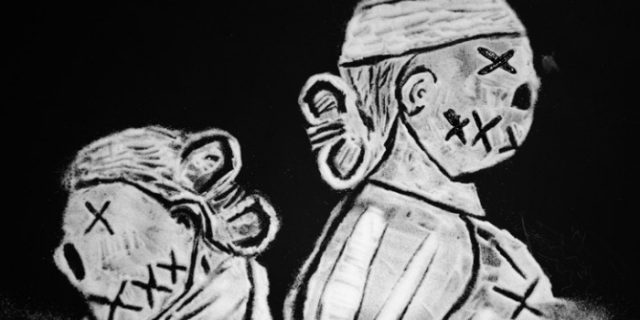 The Navajo Sugar Monster
Long ago the Holy People predicted that a monster would take over the Navajos.
Our mothers and fathers would change…No longer were man and woman together.
One after another this monster ate away their faces.
It gnawed away Navajo identity….Everything turned from light to dark….Words ceased to exist.
The Holy People begin to cry.
The Navajo language meets its end…Mouths would soon close entirely.
X marked the spot….Over the eyes and mouths of the people.
The Navajo were not human anymore.
They were beings who craved only one thing
It was not water or food…Nor prayer or traditions…Nor love or family.
The Holy People were right.
Sugar is our monster.
A killer claiming Navajo lives…With a craving that could never be satisfied
Who are these monsters?
Mom? Dad? Where are the elders? Where is my family? Who will save us?
It's going to claim the next generation if things don't change…
We must stand and make a change…Stand up and fight against this monster
For you…For your family,
Your mother, Your father, Your children
For your Nation."
by Chantelle Yazzie (A neo-traditional story published on Wellbound Storytellers.)
Native Peoples have higher rates of death by alcoholism (552%), diabetes (182%) and unintentional injuries (138%) than other Americans. The story above is a neo-traditional story addressing the impact diabetes is having on the Navajo nation. Neo-traditional stories are creations of today's Native Americans; attempts at merging the old ways and addressing today's problems.
Native American's believe in the power of the story to heal. Traditional healing stories are unique to particular nations and certain individuals, specifically elders and healers are the only ones who can tell these stories.
According to Teresa Lamsam, of Wellbound Storytellers, specific individuals have a responsibility for traditional healing stories. "Most of the stories that would be relevant [to healing] are considered to have healing within the telling of them — which is what creates the responsibility for the person who carries the story [the healer]. The person who receives the story [patient] also has responsibility. Usually, a ceremony must accompany the story."
Do you have a story to share about your experience with diabetes? Can you create a healing story?
Source: Medivizor