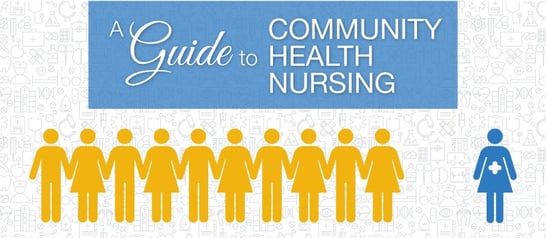 All nurses work to improve health outcomes and help monitor and manage disease. But community health nurses work in traditional public health settings and focus on the overall health of an entire community or multiple communities. Community health nursing is also known as public health nursing.
Roles and Responsibilities
"Nurses in community health work with diverse partners and providers to address complex challenges in the community," Phyllis Meadows, PhD, RN, writes in the American Journal of Nursing. "Nowhere is this more evident than in current efforts to identify, reach, and treat people living with HIV and AIDS and in efforts to help the elderly effectively manage their chronic health problems and remain at home."
Working with diverse populations requires cultural competency to "understand invisible factors in the community that promote health and prevent disease, such as assets, values, strengths, and special characteristics of the communities," Pamela Kulbok, DNSc, RN, and others say in The Online Journal of Issues and Nursing. Community health nurses develop strategies and interventions that target entire population groups, families or individuals. Regardless of the practice setting, they focus on preventing illnesses, injuries or disabilities and promoting good health.
Responsibilities can include providing primary care, health education and care management to individuals and families in the community. Community health nurses can provide input to programs that address public health problems, develop public policy for health promotion and disease prevention, and evaluate health trends to help determine intervention priorities.
The Public Health Security and Bioterrorism Response Act of 2002 added a new dimension to the profession and "catapulted community health nursing to the center of emergency response plans," according to Meadows. "Community health nurses, especially those in public health settings, are now considered first responders—a role that traditionally belonged to law enforcement and emergency response professionals. In the event of a public health threat, community health nurses will organize and administer immediate care."
Practice Settings and Education
A strength of community health nurses is their adaptability. They provide care in patients' homes, at organized events and at agencies and institutions that serve people with specific health needs.
Settings include community health clinics, community nursing centers, schools, churches, housing developments, local and state health departments, neighborhood centers, homeless shelters and work sites. Vulnerable and high-risk populations are often the focus of care, which includes homeless individuals, the elderly, teen mothers, pregnant women, smokers, infants and those at risk for a specific disease.
Nurses wishing to pursue a career in community health nursing typically need a bachelor's degree and clinical experience. Those with advanced degrees can pursue teaching and research opportunities.
Making a Difference in the Community
Community health nurses merge their clinical knowledge with community involvement and outreach efforts to respond to health problems and promote overall health. They rely on critical thinking, advocacy and analytical abilities to provide dynamic and adaptive care that impacts the community.
Alvernia University's online RN to BSN Completion Program takes a community-first approach to developing nursing skills. Courses such as Health Restoration in the Aging Population and Health Promotion in Families and Communities focus on health restoration and promotion in the community, which is ideal for students wanting to pursue a career as a community or public health nurse. The program takes place in an online learning environment that can accommodate students' work and personal schedules.
Click here to access Alvernia University's online RN to BSN completion program.