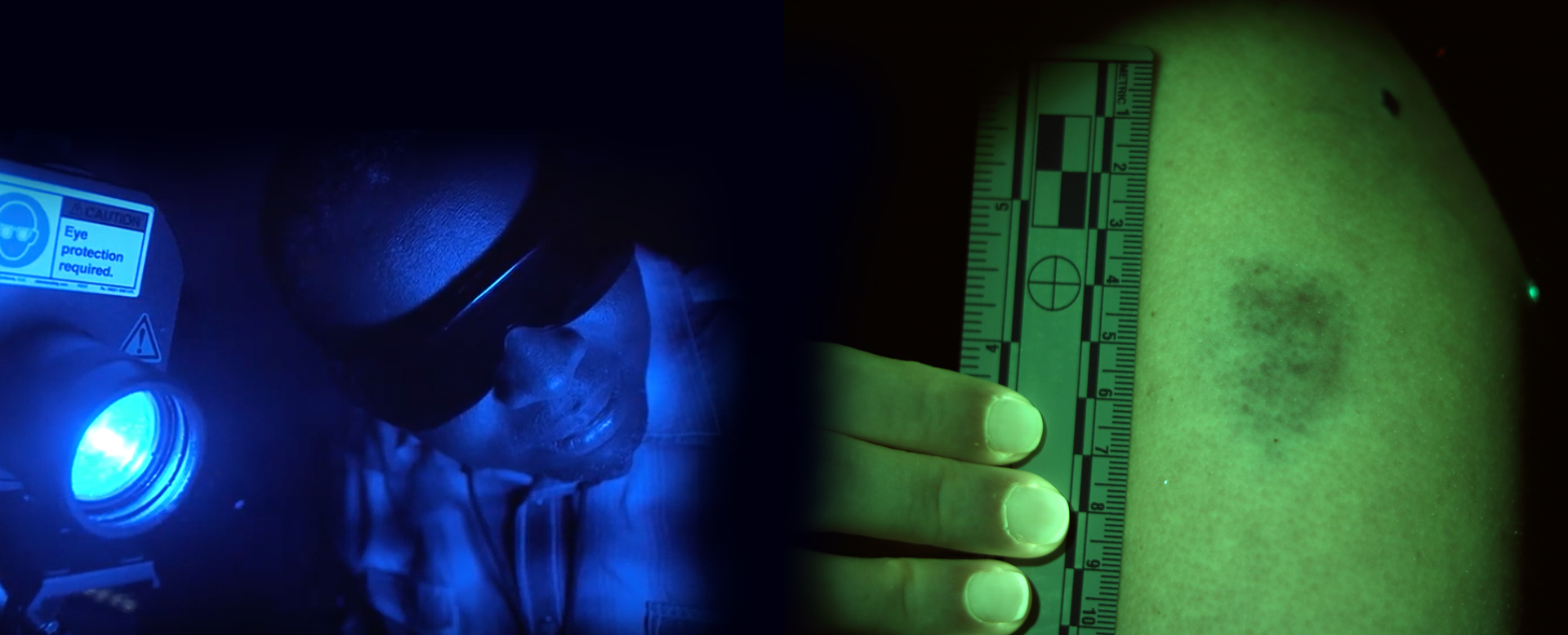 Photo: Forensic Technology Center of Excellence
Bruises are one of the most common injuries observed on victims of violent crime, such as victims of sexual assault and domestic violence, according to the National Institute of Justice (NIJ).
"Bruise detection and diagnosis are currently conducted by sight, under regular light, and bruises are often difficult to see on victims of violence depending on their skin color and the age of their injury. As a result, individuals with dark skin tones are at a significant disadvantage in having their injuries properly identified and documented. This can have a significant impact on both medical and legal outcomes for victims of violence," said AZO Life Sciences.
Katherine ("Kat") Scafide is a tenured Associate Professor, Forensic Nurse and Scientist at George Mason University and she has innovated technology to improve bruise detection on dark skin tones.
According to NIJ, one particular case inspired Scafide to look to technology to address this challenge.
"As Scafide was examining the victim, documenting injuries and collecting evidence, the victim exclaimed that the individual bit her on her back. Scafide thought, if I can locate this bite – this bruise – I can swab for DNA evidence. She looked for the bruise using all the tools she had available at the time but could not locate the bite or corresponding bruise on the woman's dark skin. Without documentation, there was nothing to substantiate the victim's claim, and when their injuries cannot be documented, women are less likely to report incidents of sexual assault, are less likely to engage in the process, and have worse judicial and medical outcomes."
Dr. Scafide began her journey as a bruise Scientist during her doctoral work at Johns Hopkins where she garnered the name "paintball" lady for her unique method of creating injuries. At George Mason, she collaborated with colleagues at Texas A & M and Georgia State Universities, conducting one of the largest and most diverse bruise studies in modern forensic history.
They discovered Alternative Light Source (ALS) was 5x better than white light at finding bruises on victims with varying skin tones.
According to NBC Washington, the technology is working in Baltimore, where Mercy Medical Center has started using it, and it has been introduced into court evidence in some domestic violence and assault cases. Scafide is hoping to expand the use of the technology both regionally and nationally.
"Forensic Nursing units haven't necessarily adopted this equipment for a variety of reasons: due to the lack of clinical practice guidelines, the cost of the equipment, the concern that there isn't sufficient research to support its practice, and we're looking to change that," Scafide said.
If you or someone you know is experiencing domestic violence, contact the National Domestic Violence Hotline by calling 1-800-799-SAFE (7233), visiting www.thehotline.org or texting LOVEIS to 22522.