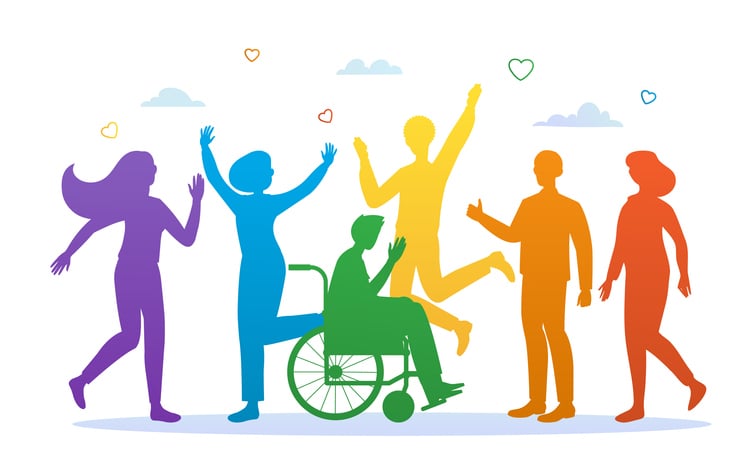 Nurses must always be prepared to care for patients from all backgrounds, including the LGBTQ+ community. Caring for the LGBTQ+ community requires an educated, compassionate, and inclusive approach. As Nurses, we ensure every patient receives the most personalized and competent care possible. Here are some tips to help you provide better care to the LGBTQ+ community.
Create a Welcoming, Warm, and Inclusive Environment
A crucial aspect of caring for the LGBTQ+ population is creating a warm, welcoming, and inclusive environment. When people feel like they are being cared for without bias or judgment, they are more likely to seek preventative and immediate care. Healthcare professionals should educate themselves on LGBTQ+ terminology so that each patient can feel understood and respected.
Expand your Knowledge of the LGBTQ+ Community
Nurses must keep updated with training, reading, and learning from others on any healthcare topic. To provide better care to the LGBTQ+ community, educate yourself on current LGBTQ+ subjects such as sexual orientation and gender identity. Consider seeking a continuing education credit from a reputable source like lgbtqiahealtheducation.org/.
Use Inclusive Language
Not all people identify with their biological sex. Using inclusive language within the LGBTQ+ community is one of the most essential aspects of providing competent, patient-centered care. When caring for the LGBTQ+ community, use language like "currently nursing' instead of 'nursing mother' or 'menstruating person' instead of 'menstruating mother.' These slight variations in how we speak to and about patients who identify in the LGBTQ+ spectrum can make all the difference in how we provide care. It is essential to address and approach each patient interaction with a nonjudgmental attitude and an open mind so that each patient can feel welcome and understood.
Use Correct Pronouns
Pronouns are incredibly important when addressing patients within the LGBTQ+ community. Feel free to ask your patient what their preferred pronouns are to ensure you are addressing them in a way they want to be addressed. Asking patients about their preferred pronouns and abiding by their requests shows respect. It signifies you are aware that not every person identifies with pronouns associated with their biological sex.
Familiarize Yourself with LGBTQ+ Health Disparities
It is important to build awareness around the specific health problems that affect the LGBTQ+ community so we can do our part in bridging healthcare gaps. Unfortunately, LGBTQ+ people experience higher rates of sexually transmitted infections, drug and alcohol abuse, anxiety, depression, suicide, cancer, violence, or bullying. Nurses should continually strive to further their educational knowledge of health disparities and interventions to make healthcare more accessible to the LGBTQ+ population.
Show Respect and Establish Trust
LGBTQ+ patients deserve the same respect as any other patient. For some LGBTQ+ patients, it can take a lot to seek care and disclose personal information about their lives. Many patients may feel judged if they reveal intimate details about their lives, so we must create a warm, judgment-free environment to collect all the information we need to provide the most competent care possible. Building a trusting nurse-patient relationship can help reduce health disparities and improve patient outcomes.
Conclusion
As Nurses, we are responsible for modifying how we provide healthcare and creating individualized care plans so every patient can feel comfortable in the healthcare setting regardless of their sexual orientation or gender identity. All any patient wants is to feel heard, validated, and respected when seeking medical care, and it is our job to do our part and remain educated on the specific needs of the LGBTQ+ community.