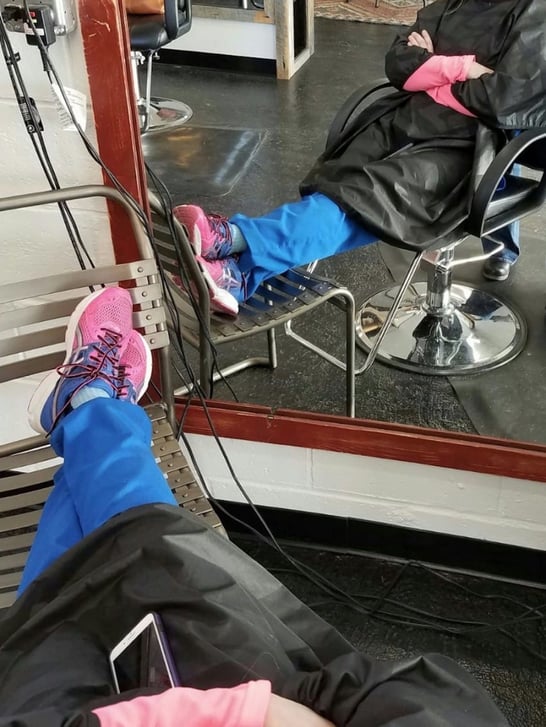 Nurses do so much, including laying our heads down to rest during our toughest moments. A hair stylist had the opportunity to turn the tables and let the Nurse do the resting and let her be taken care of. The stylist wanted the Nurse to have no worries and be completely relaxed and safe in her hands at that moment, the same way a Nurse treats a patient.
Have people in your life, strangers or loved ones, shown appreciation for all you do? We would love to hear your stories!
Medical professionals like doctors, nurses, and paramedics devote much of their time and energy to making sure we are safe and healthy. They don't get a lot of time to themselves, and many would argue that they don't get the recognition they deserve.
Ashley Bolling is a stylist and mother of three who is letting it be known that these people, particularly nurses, deserve more than just a thank you. She posted a sweet message for nurses everywhere after one came into her salon, Captivate Salon & Spa, and dozed off in her chair. The woman hadn't slept all night and was clearly exhausted. Ashley gently rested her head against her stomach, but it was her shoes that grabbed her attention. They weren't worn down or dirty — she was simply amazed by how much weight they carried, both literally and figuratively.
You can read Ashley Bolling's sweet and moving tribute to nurses below.
I had one of those "stop-you-in-your-tracks," extremely humbling moments, while working quietly on the hair of a very exhausted, sleeping nurse.
She'd been at work all night and hadn't been to bed when she landed in my chair, but not before stopping to buy my breakfast on her way.
As she dozed off, I gently rested her head on my stomach and continued to foil her hair…. then I noticed her shoes.
I wondered how many miles those shoes have walked. I wondered what they'd walked through. Blood? Tears? In & out of the countless rooms of the patients she's cared for? I wondered how many hours they've carried her, and all those like her, while they literally save the lives of those we love and hold the hands of the ones who can no longer fight that fight.
But with those shoes propped up in that chair, phone in her lap, I got the chance to take care of her (even if it was just for a few hours) and I felt extremely honored to take care of such a hard working, inspiring woman I'm so lucky to call my friend.
I've always respected and valued these amazing superheroes and am proud to be the sister, daughter, niece, friend and hairstylist of so many. Know you are appreciated, know you are irreplaceable, know you are loved!